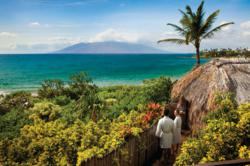 We have come up with the perfect way to create a family vacation, giving parents and their children opportunities for shared experiences as well as time for the adults to take advantage of adult activities.
Maui, Hawaii (PRWEB) March 26, 2013
Imagine traveling to Maui's only five-star luxury resort with a teenager, young child and infant in tow. Question: Vacation or nightmare? Answer: Pure vacation at Four Seasons Resort Maui at Wailea, where every detail has been orchestrated to create the perfect family vacation and, at the same time, the perfect parents' vacation.
Today, the resort announced We Time/Me Time. Shared special experiences, services and amenities—most gratis—set the stage for lifetime family memories. Customized itineraries can be arranged for children, teens and parents to experience age-appropriate Maui activities. Four Seasons Resort Maui's concierge staff believe a vacation equals "no hassle" and they stand ready to help, suggesting itineraries at the time of advance reservation or even last minute when the family is on site.
"Parents make a lot of sacrifices for their children throughout the year," says Thomas Steinhauer, regional vice president and general manager, Four Seasons Resort Maui. "We have come up with the perfect way to create a family vacation, giving parents and their children opportunities for shared experiences as well as time for the adults to take advantage of adult activities. We work with our guests to strike the perfect balance between having plenty of things to do or the fine art of doing nothing at all."
For children, the "Kids For All Seasons" program (ages 5-12) is most popular. This complimentary recreational and educational program lets kids attend for a few hours or all day (9 a.m. to 5 p.m.). They can take part in indoor and outdoor activities including games, sports, music, treasure hunts, swimming, arts and crafts, cultural education and lots more. Kids get to experience Four Seasons Resort Maui in their own special way.
While the youngsters are enjoying "Kids For All Seasons" and the very young are looked after by nannies recommended by the resort, adults can take advantage of the variety of features and experiences planned just for them. Among these are the adults-only $9 million spectacular Serenity Pool, the 24 hour Fitness Centre, an array of expert spa treatments, walks along Wailea's coastal pathway, three golf courses and complimentary on-site tennis courts. The resort has created the Ultimate Dinner which will be the highlight of any couples' stay. Beyond that, there are three award-winning restaurants and four bars, designer shops, and a wide variety of complimentary activities including beach yoga, Feldenkrais, and Gyrotonics to name just a few.
Teens are not forgotten either. They can enjoy countless activities and services including Four Seasons Resort Maui's popular "Under the Water—On the Water—On the Beach" program offering snorkeling, scuba diving, kayaking, surf lessons, and the Waterfall and Fountain pools. The Game Room is another gathering place with Xbox, PlayStation, and Nintendo Wii, ping pong, board games and more. Complimentary footballs, Frisbees, iPods, beach volleyballs, boogie boards, golf green putting and tennis are other "happy time" outlets.
Families can travel light and leave the tons of gear at home. For infants and small children, the resort provides car seats for arrival/transfers to the hotel (when reserving), baby strollers, baby monitors, Pack 'n Plays, high chairs, baby bathtubs, bottle warmers, singing baby swings, and bed rails, just to name a few. For children, plush robes, bathroom step stools and pop up tents are just a few of the surprises available. "The resort has thought of children's safety, providing lanai nettings for families with small children, " says Steinhauer. "Room service will provide a variety of children's meals, including SpongeBob cookies and CapriSun drinks. The resort will even put baby bumpers on the designer furnishings."
Families can enjoy meals together at Ferraro's Bar e Ristorante and at DUO Steak and Seafood. Children five years and under eat free at both restaurants when accompanied by a paying adult.
"Over the years, we have listened and responded to our family guests, making sure we've provided them with everything to make their stay stress free," adds Steinhauer. "Then we had our excellent staff - many of whom are parents themselves - weigh in with many more experiences, services and amenities we could offer. Visit our website and see all the many ways the resort has anticipated the arrival of families, children and parents."
For more information, visit Four Seasons Resort Maui or call the Concierge at (808) 874-8000.
About Four Seasons Resort Maui: Maui's first and only Forbes Five-Star resort is nestled on 15 acres of the breathtaking Wailea Coast. The 380-room oceanfront property is world-renowned for its comfortable opulence, impeccable service, luxurious amenities, and for living in harmony with its environment and community. The resort in Maui is also home to one of the nation's top-rated spas committed to wellness and three of Hawaii's most acclaimed restaurants—Ferraro's Bar e Ristorante, Spago Maui and DUO, a premium steak and seafood restaurant. This sophisticated home away from home caters to the needs and interests of all generations—offering world-class activities and one-of-a-kind Unforgettable Events, a museum quality art collection, three pools overlooking the azure-blue Pacific Ocean including an adults-only Serenity Pool with exclusive Missoni-designed cabanas, and more. Four Seasons Resort Maui, a Hawaiian vacation destination geared to action adventurers, those guests wishing to practice the fine art of doing nothing at all, and everyone in between.
###
Media Contact: Charlotte Novom | Novom Marketing, Inc. | 714.941.9799