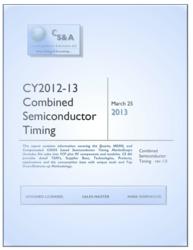 (PRWEB) March 25, 2013
Consulting Services & Associates LLC (CS &A) has released its latest market report and analysis series focused on semiconductor timing covering the results of 2012 and forecasting through 2015.
The latest series (4) of reports include; (1) Xtals and Oscillators, including quartz, SiMEMS, and All-Silicon Oscillator (ASO) based solutions; (2) Semiconductor Clock and Timing, covering devices utilizing an external resonator, die sales to frequency suppliers, plus RF timing solutions; (3) Combined Semiconductor Timing, which is a combination of the Xtal and Oscillator and Semiconductor Clock and Timing reports; (4) and a unique deep dive report specific to Semiconductor timing opportunities in Communications Infrastructure and back haul. CS &A offers a single user and enterprise licenses that include updates during the year plus report related consulting.
"This year's report series is our best effort to date," said Mark Sherwood, CS &A's CEO and Principal Associate. "For this year, we have streamlined the report to focus upon specific application trends driving semiconductor timing overall. Our unique top down and bottoms up methodology in reporting provides the best and most accurate view of the entire semiconductor timing MarketScape."
The full spectrum of timing segments represented approximately $7 billion in sales in 2012. This may be a true plateau in revenue and volumes. Impacted by high levels of integration of the timing functions, especially in consumer applications where cost and size is king; the loss of a key timing category: PC specific timing; all combined with heavy competitive pressure on device ASPs lead to flattening revenue for the year.
The report shows that new technologies have made measurable penetration into this segment in 2012 and will continue to do so in 2013. SiMEMS suppliers have already been making their mark in the market, with companies such as SiTime and Discera gaining market share with their oscillators. Compensated CMOS (compensated LC and RC) solutions now look to make their entry from companies such as IDT, Si-Ware Systems, and eoSemi.
The reports provide a detailed and unique look at the full spectrum of the semiconductor timing market providing TAM, detailed consumption, and forecasts for all major product categories, plus supplier market shares.
The reports are offered in either a single user or enterprise license, where Enterprise clients will see a second half 2013 update in December, plus two hours of report related open consulting. Single user clients will see only the March release. Reports also include detailed databases that contain the entire forecast and market share data. Optionally these databases can be purchased separately from the full reports.
About Consulting Services & Associates
Consulting Services & Associates LLC (CS&A) founded in 2002, is headquartered in the heart of the Silicon Valley, centrally located in Cupertino, California. CS &A is today the recognized leader in semiconductor timing reporting and analysis. The firm provides unique and innovative reports and limited consulting resources specializing in: technical issue resolution, market research and analysis, product definition, project management, marketing support services, due diligence services, and strategic research and planning. If you are interested in learning more about CS &A offerings, please email us: info(at)timing-is-everything(dot)net. Reports can be purchased online at http://www.timing-is-everything.net.