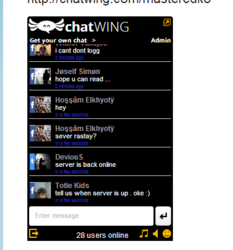 New York, NY (PRWEB) March 24, 2013
After several experiments and platform runs, Chatwing.com finally spearheads its latest project: website chat network. Through this new chat box feature, users can join each others' chatrooms in few seconds. Each chat network is tweaked according to niche or topic, and it can be used to fulfill any online purpose, especially ones related to website marketing.
Currently, there are up to five available chatbox networks, and all of these have varying languages. The developers are also planning to add new and popular niches, such as movies, sports, fashion, cartoons, humor, dating, and technology. The main purpose of the chat network is to ensure that people are converged in online communities at any time. Other features of the Chatwing chatroom were also tweaked in terms of efficiency and reliability.
Chatwing's website chat network is considered by users as a glorified comeback. Users have also remarked that the recent chat network feature is better, compared to the first version released many months ago. The developers have also ensured that the new chat networks can help users gain more friends and information in the long run.
With topic-centric chatrooms linked together, Chatwing users and visitors will gain more exposure than ever. Chatwing's developers have indicated that the projected exposure increase can go as high as 80% in over two weeks, or even less. To know more about recent chat network updates, users are advised to visit the Chatwing Facebook page.
About Chatwing.com
Chatwing.com specializes in the new field of website chat. Over years, the Chatwing team has introduced live chat widget for hundreds and thousands of blogs. The Chatwing application bridges people from many parts of the world, creating global synergy through the Internet. The shout box can be installed in just seconds, and it can be used for varying purposes such as leisure and Internet marketing. It also allows a user to customize the size, color, and name of the widget.