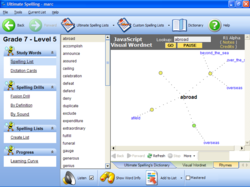 It is only natural that English, with its rich vocabulary and worldwide appeal, be increasingly assimilated into the Spanish language.
New York City, NY (PRWEB) March 30, 2013
Software developers eReflect, the creators of Ultimate Spelling, announce that words from the English language are gaining acceptance in the Spanish language. Some words are being included in the official Spanish language lexicon with no changes to their English pronunciation or spelling. This development is a natural progression in the evolution of society and of English-speaking countries' place in the global culture. English has become the base language for business, science, communications, and diplomacy. It is only natural that English, with its rich vocabulary and worldwide appeal, be increasingly assimilated into the Spanish language.
When the researchers and developers started to design Ultimate Spelling, they first started by looking at the history of English, because a knowledge of where the language started helps in understanding the spelling changes many words have gone through over time. The English language began as a Germanic language in Britain. Over centuries of conquering and migration by groups speaking Latin, Scandinavian, French, and other languages, it became what has been described as a borrowing language—one that is more open to accepting new words from other languages. These words come from older cultures, civilizations and languages and bring with them their own heritage and culture. For this reason, English is a rich and layered language with multiple words meaning the same thing, many rules, and exceptions to those rules. Even native English speakers require spelling software to navigate the sheer amount of words in their language. English has over 250,000 distinct words, without including technical, scientific, or slang terms. Many of these words come from other languages, demonstrating the rich tapestry that has been woven over time by the interaction of English-speaking countries with the world around them.
Beginning in the 16th century with the British Empire and continuing with the emergence of the United States as a global superpower, English speakers began influencing the world around them and soon English became one of the dominant world languages, replacing French as the language of diplomacy and German as the language of science. In modern times, English has become the international language of communications, science, business, aviation, information technology, and entertainment. Over a billion people speak at least a basic level of English.
The difference between speaking English and assimilating English words into the Spanish language is acceptance on a cultural and academic level. The Spanish Royal Academy has deemed certain words as "legitimate Spanish" - essentially the equivalent of being included in the latest edition of the Oxford English Dictionary or the Merriam-Webster Dictionary. Instead of being considered slang or "Spanglish," these words, although English, are actually considered as Spanish words as well, much the same as rodeo or taco are considered English although they come from the Spanish language. Spanish spelling software programs will now accept as legitimate words such additions as "marketing," "software," "sex-appeal," and "camping." English, long a borrower of words from world languages, is increasingly becoming a lender of words as well.
For more information about how spelling software can improve spelling performance for you and your family, please visit the official website at http://www.ultimatespelling.com.
About Ultimate Spelling™
Ultimate Spelling provides a modern and easy to use spelling software that has been designed with one goal in mind – making children WANT to learn.
It is a fast and easy way to master even the most complicated spelling, without the need to write long lists or complete boring tests.
In fact, Ultimate Spelling provides more than just spelling help. It is a complete educational resource that boosts all level of a child's literacy.
Containing a personal computer tutor, Ultimate Spelling is the most realistic step-by-step guide to flawless spelling ability.