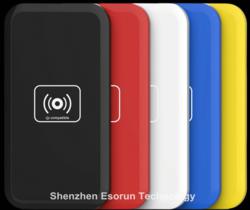 Wireless charging mat compatible with Qi standard
Shenzhen, China (PRWEB) March 29, 2013
A pioneer in wireless charging technology, Esorun recently unveiled 'N7', its first ever wireless transmitter mat with an input voltage of only 5 volts. Engineers at Esorun have worked relentlessly on making it a high-performance product.
Wireless charging may have existed for a long time now, but low efficiencies have been unable to fulfill the expectations of many users. It is not without reason that most people prefer the clutter of wires and cables around, rather than having to makeup with low performing wireless equipments.
Sensing the need of consumers for enhanced performance and efficiency, Esorun engineers came up with innovative solutions and developed the wireless transmitter mats. These mats are designed to hold iPhones and charge them via a built-in 30 pin connector. The charging ability of the product has been improved upon to high 80 percent more efficiency.
The transmitters are backward compatible with all QI products that may be from any supplier in the market. The mats use highly productive coils and TI chips, which make them so compatible.
The wireless charger works best when kept in temperatures under 30 degrees Celsius. Unlike other devices that easily heat up from charging, the Esorun mats remain cooler, provided the temperatures around are below the 30 degree Celsius mark.
For iPhone users, this device is a perfect savior in times of emergency when a power socket is not available or when one cannot readily access a power cord to charge a fast depleting battery.
The 'N7' wireless charger can be used on the go, anywhere and without one being troubled with cables and wires. Even when at home, using a wireless charger is more convenient for one can charge the iPhone without disturbing other gadgets plugged to the available power sockets.
By June, this year, Esorun would be a member of the reputed WPC (Wireless Power Consortium), the worlds' biggest such consortium where synergies are pooled to make life easier with wireless charging in every sphere. One of the prime objectives of WPC is to remove restrictions on the use of the technology limited to cellphones and expand it to develop wireless charging devices for laptops and other larger gadgets.
About Shenzhen Esorun Technology Co. Ltd
Shenzhen Esorun Technology Co. Ltd. is a professional technology company that provides a wide range of iPhone and iPad accessories, and other gadget accessories such as iPhone 5 wireless charging products, power banks, iPhone 5 battery cases, wireless external hard drives, Bluetooth speakers, air fly mouses and more. For more information, contact George Jiang at sales(at)esorun(dot)com.