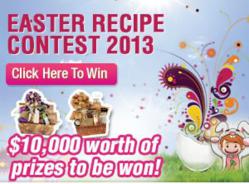 To help showcase their talents and bring them the exposure they deserve, Asia Food Recipe has designed yet another exciting recipe contest catering to culinary professionals, cooking mothers and students to have fun and share culinary ideas
Singapore, Singapore (PRWEB) March 27, 2013
Asia Food Recipe™, Asia's No.1 food recipe portal, is inviting all chefs, mothers, restaurateurs, and culinary students to enter their recipes to its 2013 Easter Recipe Contest. The contest – which begins on March 18, 2013 and end on 31 May, 2013, will run for ten weeks. It is open to anyone in the world. The contest is an opportunity for restaurant owners, cooking mothers, chefs & other individuals to gain valuable exposure and have lots of fun in the process.
Entrants are asked to simply submit their original Easter recipe either via a recipe video format or image and text format, through an online form provided. They will then be eligible to win:

Up to S$700 Cash
Up to S$18,000 worth of Media Exposure
Up to S$600 worth of Household Hampers
"Many non professional chefs are actually talented cooks who have spent years perfecting their craft by cooking for friends and family." says Chef Kia, Founder of AsiaFoodRecipe.com. " To help showcase their talents and bring them the exposure they deserve, Asia Food Recipe has designed yet another exciting recipe contest catering to culinary professionals, cooking mothers and students to have fun and share culinary ideas."
Asia Food Recipe™ has over 100,000 recipes that are hand-picked by the their team of food experts and community. Asia Food Recipe™ will also feature weekly Easter recipes entries including nutritious and savory entrées, flavorful veggie side dishes, low fat dessert recipes and more on their Facebook Page with over 127,000 fans.
To enter, simply visit http://www.asiafoodrecipe.com/easter-contest/, and look for complete contest rules.
Platinum Sponsors for this contest, include 7-11, Joyoung Soymilk maker, Happiness Pte Ltd, Turbo Italia Kitchen Appliances and Koka Noodles.
Gold Sponsors for this contest include BrandCellar, sgCarMart and Conversion Hub
ABOUT ASIA FOOD RECIPE
AsiaFoodRecipe.com brings the Asian culinary world closer to you. With over a million of recipes focusing on Asian food recipes, Asia Food Recipe is Asia's largest online recipe portal. At AsiaFoodRecipe.com, you can also read thousands of independent reviews from fellow cooking enthusiast and use cooking-simplifying features such as conversion calculators, preparation videos and consumer generated ratings - all to enable you to explore the Asian culinary world with us! Go ahead and explore the largest range of Asian cuisines with the Asia's leading food recipe portal. For more information, visit http://www.asiafoodrecipe.com
For distribution enquiries or Digital PR information, please contact Alvin Sim at Conversion Hub Marketing on +65 6844 3935
ABOUT CONVERSION HUB
Conversion Hub Marketing is an approved S6 Government vendor for projects up to $3 million and serves as Digital Advisor to the Direct Marketing Association of Singapore (DMAS). Conversion Hub delivers world-class online PR, social media marketing and search engine marketing solutions based on the premise of performance excellence and long-lasting results. Leveraging on their exclusive network of over 30 million social profiles and 25 thousand media points, we are the only agency to offer performance guarantees across all our marketing channels. Headquartered in Singapore, Conversion Hub combines a decade of digital experience in online sustainability and marketing expertise, serving brands and government institutions such as Philips, Bayer, Microsoft, SingTel, National Heritage Board, Prime Minister Office, Public Service Commission, National University of Singapore and many others. For more information, visit http://www.conversion-hub.com