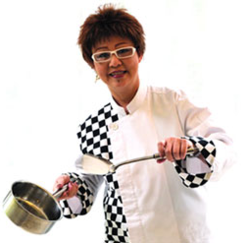 Singapore, Singapore (PRWEB) March 26, 2013
On Saturday, March 30, 2013 Asia Food Recipe will hold its first cooking class at Furama RiverFront Hotel. Celebrity Chef Lisa Leong, who is a Culinary Consultant with Health Promotion Board and a TV Chef will serve as workshop trainer and emcee.
Workshop participants will enjoy the following:

Free Goodie Bag worth $60
Free Hotel Buffet worth $45++
A chance to Win $500 worth of Lucky Draw Prizes
Learn 4 Healthy Recipes from Celebrity Chef Lisa Leong namely, Joyoung Avocado Soya Pudding, Dancing Tomato Grissini Sticks, Philippine Style Yam Shreds Prawn Fritters and Roasted HAHA whole chicken
This event is open to the general public, "foodies", families, mothers and cooking enthusiasts. Tickets are priced at $32 per person. There is a discount for groups of 2 or more. Groups of 2 will pay $30 each. Groups of 4 will pay $28 each.
When: 30th March 2013 (Saturday) 12noon to 4pm. Registration starts at 11am
Where: Furama RiverFront Hotel, 405 Havelock Road. Singapore 169633
How: Attendees are encouraged to register online at http://sg.asiafoodrecipe.com/cookingclass/index.html Check the website for more information or call 6542 1635 (Monday to Friday from 9am to 5pm).
About Chef Lisa Leong
A Singapore-born chef and a leading food critic in South East Asia, Miss Lisa Leong is renowned for her innovative culinary approach in Japanese recipes and Chinese recipes. She is regularly featured in food & beverage magazines and healthy lifestyle programmes. With over 28 years of experience, Lisa is not only a Professional Chef, but also a Culinary Consultant with Health Promotion Board, Gourmet Instructor, Professional Food Stylist, Certified Professional Trainer (ACTA), TV Chef and Spokeswoman for leading food brands and cookware products in Singapore and South East Asia.
ABOUT ASIA FOOD RECIPE
AsiaFoodRecipe.com brings the Asian culinary world closer to you. With over a million of recipes focusing on Asian cuisines, Asia Food Recipe is Asia's largest online recipe portal. At AsiaFoodRecipe.com, you can also read thousands of independent reviews from fellow cooking enthusiasts and use cooking-simplifying features such as conversion calculators, preparation videos and consumer generated ratings - all to enable you to explore the Asian culinary world with us! Go ahead and explore the largest range of Asian cuisines with the Asia's leading food recipe portal. For more information, visit http://www.asiafoodrecipe.com
For distribution enquiries or Digital PR information, please contact Alvin Sim at Conversion Hub Marketing on +65 6844 3935
ABOUT CONVERSION HUB
Conversion Hub Marketing is an approved S6 Government vendor for projects up to $3 million and serves as Digital Advisor to the Direct Marketing Association of Singapore (DMAS). Conversion Hub delivers mobile marketing, mobile app development and search engine marketing solutions based on the premise of performance excellence and long-lasting results. Leveraging on their exclusive network of over 30 million social profiles and 25 thousand media points, Conversion Hub is the only agency to offer performance guarantees across all marketing channels. Headquartered in Singapore, Conversion Hub combines a decade of digital experience in online sustainability and marketing expertise, serving brands and government institutions such as Philips, Bayer, Microsoft, SingTel, National Heritage Board, Prime Minister Office, Public Service Commission, National University of Singapore and many others. For more information, visit http://www.conversion-hub.com