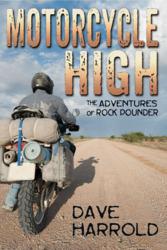 Vroom!
McKinney, Texas (PRWEB) March 26, 2013
Dave Harrold had it all: a motorcycle many would die for, the adventurist spirit of a true maverick, and an iron-clad determination that would let nothing stand in his way. Or so he thought.
Motorcycle High: The Adventures of Rock Pounder, is a fictional account of Harrold's trip. Fusing action, adventure, and mystery, with real-life quips and comedic encounters, it's guaranteed to give readers the ride of their lives.
Synopsis:
Rock Pounder, adventure rider extraordinaire, is planning a round-the-world trip on his motorcycle. His goal is Amsterdam and the herbal refreshment that awaits him there. But when you're a legend—among women, adventure riders, and spies—nothing is ever as simple as it seems. Come along for the ride as Rock and his bike travel onward through Siberia, Mongolia, and Europe. His destination is Amsterdam and the pleasures that lie in store. The journey will take him places he never expected to go. But when Rock Pounder is on a mission, no one stands in his way, except, maybe, a tall blonde who means nothing but trouble.
"There is nothing quite like it on the market today," says Viveca Smith, president of the book's publishing company.
She continues, "Even though the book is fiction, many of the stories are based on Dave Harrold's true life adventures."
Critics from both the general fiction and motorcycle worlds have already given the book high praise. As mysteries and thrillers go, Motorcycle High is in a category all its own.