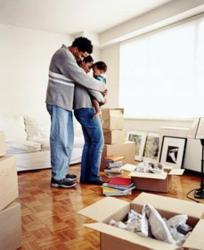 (PRWEB) March 25, 2013
At California Apartment Moving Company, they are experienced with relieving the stress and hassle involved with moving. They make it a priority to give people a safe, stress-free moving experience by providing them with expert movers and professional help every step of the way. Whether they are moving across a huge metropolitan area like Los Angeles, or moving across the country, the company's team of dedicated, professional movers will get any client to their destination with ease.
California Apartment Moving Company has realized that budgets are tight, so if people want them to pack, they will, but following are some money saving tips the client can take advantage of:
The client should pre-pack small items in sealed boxes. Beds, mirrors, electronics or anything that requires disassembly should be done before the movers arrive. For insurance and safety reasons, clients will be asked to inform of any appliances that need to be disconnected or reconnected so they can provide the right assistance to fulfill their needs.
When preparing drawers for moving, only to leave clothing in drawers. This aids the movers with heavy pieces, especially in places with a lot of stairs, and can greatly reduce the risk of damage to a client's possessions. Also, clearly mark and properly pack any unusually fragile or expensive possessions. Examples would include glass tabletops, large expensive flat screens TVs and framed pictures. Marking them clearly helps the mover identify which items to handle with extra care.
Time quotes for arrival are considered estimates and can change with certain factors. Problems such as weather, delays from clients with previous scheduled times, or vehicle mechanical breakdown, can cause the moving team to run off schedule. For such occurrences, their moving professionals will keep the client informed and up to date on the status of their scheduled appointment.
About California Apartment Moving Company:
Apartment Moving Company California has moved families for many years. They offer a wide variety of services, from a little moving help to complete moving packages, tailored to meet their client's budget and requirements. Understanding the needs of the customer is important to any move, and their team of experienced professionals and expert movers work closely with clients to meet their unique moving needs. Unmatched professionalism and pride in a job well done are the reasons they stay in this business—to make customers happy.