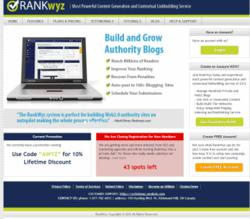 We are constantly upgrading and improving our features
(PRWEB) March 25, 2013
Cutting-edge automated blogging software RankWyz.com builds upon its impressive feature set by steadily adding more features to an already revolutionary application. As a part of the quest to be the best SEO management tool on the market, RankWyz had earlier incorporated the ability to use RSS feeds to publish content to your blog network. The latest innovation from the company builds upon this feature by adding the ability to pull full articles with attribution links via RSS feeds.
Really Simple Syndication  makes it easier for users to follow their favorite sites through an automated feed that updates when those sites post new content. RankWyz users can subscribe to niche- relevant feeds and use the content to create authoritative and informative posts to their own blog network. The added ability to publish the full text from a favorite website via RSS feed makes it easier for your site to build authority. With a simple press of a button, add an RSS subscription to your money site across your blog network, and instantly have hundreds of content attribution back links to your primary site. Conversely,  for subscribers that are focused on publishing content across a network, this new feature allows you to publish authoritative and attributed content from high-quality content feeds. This allows users to quickly and efficiently raise the profile of their blog without incurring duplicate content penalties from major search engines. 
RankWyz.com founder Pavel Kovalev created the service as a means to recover from search engine penalties. Over time, the tool grew to be the world's most efficient means of building and managing massive blog networks from a single interface. Since blogging remains a proven  method for businesses to make their goods and services stand out from the crowd, RankWyz is powerful enough to be the cornerstone of any online marketing strategy.  However, building and maintaining a large network of  blogs can be extremely time-consuming. This is where RankWyz makes it mark. 
"We are constantly upgrading and improving our features. Our goal is to build an immensely popular internet brand by providing excellent customer service. Our ultimate goal is 100% customer satisfaction and retention. We at RankWyz  feel that we satisfy all of these goals, and are constantly setting new ones that benefit our customers", says the company's founder.
To learn more visit http://www.rankwyz.com