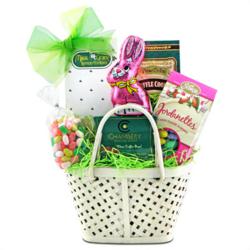 Easter is the quintessential basket holiday... It brings us joy to make baskets which help enhance the holiday
Clifton, NJ (PRWEB) March 25, 2013
Easter is just around the corner and the gift basket bunnies at Capalbo's Gift Baskets are hard at work making Easter baskets in a variety of shapes and sizes. Some gift baskets are whimsical, filled with Easter egg cookies, jelly beans and chocolate bunnies, all with bright spring-colored packaging. Other Easter gift baskets are more appropriate to the religious nature of the holiday, with wine, fresh fruit and gourmet accompaniments to help spread the Easter joy.
Several of the Easter gift baskets are on Free Shipping, too. This includes assorted wine baskets, champagne baskets, fruit baskets, gourmet baskets, and decorative gift boxes filled with wine, chocolates, truffles, cheeses and more. The Free Shipping deal is available through 11:59pm on March 31, while supplies last.
As the largest gift basket company in the NJ/NY/CT tri-state area for over 100 years, Capalbo's Gift Baskets is well-suited to making gift baskets suitable for all occasions. This Easter, they are offering something for every bunny, in every price range. One sweet example is Easter Joy Red Wine Gift Basket, where you can spread the joy with a basket packed with Tavernello Italian red wine and gourmet holiday goodies, including a decorative Easter bunny cookie. Another is the Easter Goodies Gift Box, where you can hop into the holiday spirit with an Easter goody gift box loaded with a chocolate bunny, chocolate covered pretzels, jelly beans, cookies and more.
Or why not try the Easter Parade Fruit Gift Basket, where the Easter parade is coming to town -- right inside a bamboo basket filled with eight pieces of fresh fruit, Cheddar cheese, hand-dipped chocolate covered pretzels, smoked almonds, and a chocolate Easter bunny.
The unique Easter arrangements are all created and designed in the Capalbo's Gift Baskets 10,000 square foot facility in NJ. Capalbo's Gift Baskets will also personalize your gift message, at no additional charge.  Even though Easter is fast approaching, Capalbo's Gift Baskets can still ship gift baskets in time for the big day – or have local New Jersey deliveries made by van – which is faster than a speeding Easter Bunny.
"Easter is the quintessential basket holiday," says Sue Capalbo, Vice President of Capalbo's Gift Baskets. "It brings us joy to make baskets which help enhance the holiday."
Customers can order Easter baskets, or any other fresh fruit, wine or gourmet food gift baskets, via the Capalbo's website, http://www.CapalbosOnline.com, on their desktop or mobile devices. The baskets and gifts can also be seen in person at their retail store, located at 350 Allwood Road in Clifton, NJ 07012, just across from the Clifton Promenade Mall.
About Capalbo's Gift Baskets
Capalbo's Gift Baskets provides fast, fresh and delicious gourmet fruit & food baskets, wine & champagne baskets, gift towers & tins and baby gift baskets to customers nationwide. Every basket is backed by a 100% unconditional satisfaction guarantee which has been the Capalbo promise for over 100 years. Customer Service Representatives, all friendly and knowledgeable, are available to assist you from 9:00am to 6:00pm weekdays by phone at (800) 252-6262 or via live online chat. You can also visit their sister sites, winebasket.com for wine, champagne and gourmet food arrangements, and babybasket.com, for all your newborn baby gift needs.
Capalbo's Gift Baskets has an extensive list of local, national and international corporate clients in the financial services, pharmaceuticals, media and entertainment, real estate, accounting and legal sectors, among others.