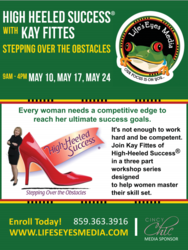 Remember, Ginger Rogers did everything Fred Astaire did, but backwards and in high heels. -Faith Whittlesey
Cincinnati, OH (PRWEB) March 26, 2013
Women earn an average 81 cents for every dollar men earn. Women face unique work/life balance issues that can impact career advancement. And women head a growing number of single-parent households.
Today, every woman needs a competitive edge to reach her ultimate professional goals. In High-Heeled Success, expert author/educator Kay Fittes shares the knowledge that sets apart highly accomplished women from their peers.
Successful women know how to create visibility, clout, and a commanding presence. They cultivate personal and professional self-esteem. They master verbal and nonverbal communication. And they package and present themselves--and their value--for maximum career benefit. In High-Heeled Success, participants learn how to make this skill set their own.
Day One of the Workshop features specific techniques to work smarter, not harder. Insights include how to gain professional confidence, get meaningful credit for workplace contributions, and earn respect from colleagues and supervisors.
Day Two of the Workshop analyzes workplace conflict. Participants learn techniques to deal with conflict rapidly, astutely, and decisively--transforming conflict resolution into competitive advantage.
Day Three of the Workshop emphasizes equilibrium. Practical exercises center on overcoming hidden obstacles to work/life balance that include martyr syndrome, achievement guilt, and chronic stress.
Plan to attend High-Heeled Success from 9 a.m. to 4 p.m. on May 10, 17, and 24 at Life's Eyes Media Training Center in Lookout Corporate Center, 1717 Dixie Highway, Suite 150, Fort Wright, Kentucky, 41011. Enrollment is $600 and includes lunch on all three seminar days. Call 859-363-3916 for more information and/or to register for this limited-seating workshop.
Life's Eyes Media, Inc. is a Greater Cincinnati industry leader in international video production, marcom training/consulting, and event production.