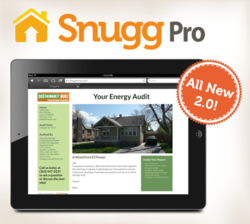 Boulder, CO (PRWEB) March 26, 2013
Snugg Home has just released an all-new version of their energy assessment software nationwide. SnuggPro 2.0 is a cloud-based laptop and iPad energy auditing and sales tool for residential contractors and auditors. It's fast to use, easy to learn and creates compelling reports that turn skeptical homeowners into satisfied customers.
SnuggPro makes educating the homeowner and closing the sale easier than ever before with an intuitive interface, simple data entry, easy photo editing, beautiful homeowner reports, and intelligent templating. SnuggPro creates highly accurate energy savings calculations based on the energy analysis engine from OptiMiser which is fully compliant with the Building Performance Institute's 2400 standard.
Contractors can use default pricing or use their own pricing for all individual recommendations as well as customize the type of improvements listed. They can also add any of their own recommendations to the homeowner report such as replacement gutters, a new deck, or a complete kitchen remodel.
Snugg Home is dedicated to dramatically increasing the number of energy efficient homes in the US. Their approach is to bring the world of energy efficiency to existing home improvement contractors. SnuggPro creates beautiful proposals for any type of contractor including remodelers, mechanical contractors, roofers, handyman companies, and general contractors. Then, through the integration of a simple energy analysis engine, SnuggPro opens the door for any contractor to recommend energy efficiency improvements that make the home more comfortable while increasing the contractor's bottom line.
On the consumer side, homeowners have long struggled with energy assessments that seem to be written by engineers for engineers. Page after page of complex technical data and jargon alienates a homeowner instead of encouraging them to actually perform the improvements. SnuggPro reports are consumer friendly and make it easy for the contractors to present accurate recommendations that are customized to the homeowner's needs and budget.
Through Xcel Energy's Home Energy Audit Program in Colorado, over 100 contractors have performed almost 5,000 energy audits with the software. And now with the national release, Snugg Home is extremely pleased to already have contractors in 16 states using their products. Individual contractors and auditors can sign up and use the tool today. Snugg Home offers a 14-Day Free Trial for all new signups as well as free Intro & Training Webinars that show contractors how to unlock their full potential as energy efficiency professionals.
Snugg Home has recently entered into a marketing agreement with the Electric & Gas Industries Association EGIA, a national trade association for energy related contractors. This partnership will deliver incredible value to EGIA members. We also partner with utility programs, regional and national home builder associations, and green building groups.
Snugg Home is the company behind SnuggPro. We are passionate about bringing energy efficiency to homes in a simple, understandable and profitable way for both homeowner and contractors.