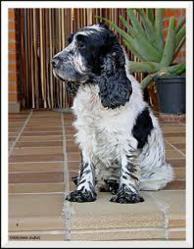 A brand new resource for those who love Cocker Spaniels!
Charlotte, NC (PRWEB) March 26, 2013
Cocker Spaniels lovers across the globe will be delighted to discover there's a new comprehensive online resource available, launched by Savannah Summers, owner of I Love Cocker Spaniels. This website provides a variety of services and links to helpful resources, all of which are tailored towards dog owners.
The new site provides first and foremost an interactive discussion forum where participants can post questions and advice about a variety of topics. The forum is password protected, monitored by an administrator and requires registration (for the safety and protection of all participants.) Topics are limited to dog ownership issues.
The new site also provides a list of dog rescues, dog breeders, and advice about adopting from a shelter, individual or breeder. Expert advice is provided about puppy and adult dog ownership, including grooming, health care, diet, behavior and social issues. The blog will be updated weekly with articles about dog care and the joys of dog ownership. Readers can submit poetry, stories, anecdotes, and advice through the forum and through commentary on the blog posts.
The site also provides links to products and services specific to Cocker Spaniels. Participants can also post pictures of their pups or memorialize pets that have passed on by posting stories and pictures in the memorial segment of the site.
You can learn more about this website by visiting http://ilovecockerspaniels.net/