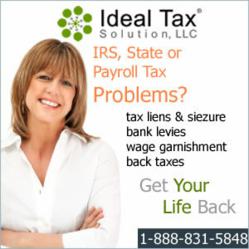 It never pays to roll the dice with the IRS
Costa Mesa, CA (PRWEB) March 26, 2013
Ideal Tax Solution, LLC has learned the topic of budget reduction is receiving considerable attention among IRS officials charged with administrating tax law for the federal government. The Continuing Resolution passed in the fall of 2012 kept the current fiscal year budget at the 2012 level. However, the IRS budget for 2012 was a significant reduction from 2011.
In a prepared statement, Wilkins echoed the sentiments of many high level government officials, "Like nearly every other government agency, the IRS is also coping with the funding reduction imposed by sequestration," said Wilkins. "But because of the hard work of our employees, we were able to allow most taxpayers to file their returns before January 30th."
Uncertainty on funding for the remainder of fiscal year 2013 ending in October is being fueled by the pending deadline for the current CR, which runs out on March 27. The tax professionals at Ideal Tax Solution have discovered the IRS is taking aggressive steps to enable it be in compliance with budgetary constraints.
Actions already in place include hiring freezes, reduced grant funding and cutbacks in travel and training. Furloughs are almost a certainty as employee pay is the greatest expense by far for the IRS, but none will be implemented before summer. Ideal Tax Solution is advising its clients to remain current on any IRS tax liability, as there will be no reduction of IRS personnel during filing season.
"It never pays to roll the dice with the IRS," says Sam Price, senior tax analyst at Ideal Tax Solution. "Many taxpayers make the mistake of thinking they can fly under the IRS radar, only to find themselves eventually under audit and wishing they had simply filed when they should have."
In addition to the budget issue, another tough challenged faced the IRS involved a number of retroactive tax changes contained in a bill passed on January 1st by Congress. The new regulations caused a delay in the ability of the IRS to process some returns before January 30. Ideal Tax Solution carefully counseled its clients regarding filing restrictions instituted as a result of congressional mandates.
Issue management was also discussed in relation to more efficiently and effectively finding ways to resolve issues with the business community. Part of that strategy revolved around identifying issues for audit that will have the broadest impact on compliance regardless of entity size or type. Ideal Tax Solution will stay abreast of any changes to current IRS rules.
For U.S. taxpayers interested in finding out more about Ideal Tax Solution and their full range of in-depth and personalized tax preparation services, or for any tax help related issue, visit them online at http://www.idealtaxsolution.com. You can also reach them by phone by dialing 888.393.5154. Good tax tips and additional information can be found on their Facebook page and by following them on Twitter.
About Ideal Tax Solution, LLC – Located in Costa Mesa, California, the company provides a full range of tax preparation and resolution services as well as reassurance to taxpayers nationwide. With more than 55 years of combined experience providing American taxpayers with federal and state income tax solutions, Ideal Tax Solution offers an experienced staff which includes Enrolled Agents, CPAs and Senior Tax Consultants who stand at the ready to help with any tax issues.