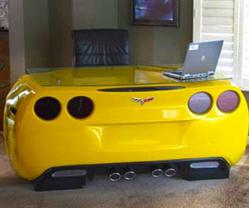 Man Cave Desk Furniture Contest
St. Louis, MO (PRWEB) March 26, 2013
Car Crazy Desks – A Small Company reaches it's 100th customer with the custom made, high quality Corvette Desk. A local St. Louis based company is growing by providing the most unique desks available for the ultimate Man Cave. Bauer Designs has produced it's 100th Corvette Desk and would like to thank the customer by offering a Man Cave Contest.
Bauer Designs, DBA CarCrazyDesks.com is taking the "gear head" to a new level. Now productivity can increase from 0 to 60 in a matter of seconds when using the Car Crazy Desk to complete your work assignments. These devilishly sexy desks feature a handmade design and paint job detailed enough to rival any actual car.
The design has been hand built and includes working lights with a three-way dimmer, high quality tail light lenses and a thick glass top available with an etched name plate. The desk also includes exhaust tips made from stainless steel and handmade billet aluminum engraved knobs. Painted any color of choice using only the best hardwoods available.
Addition of New Car Models for the Man Cave Desk, BBQ Pit, Liquor Bar, and Car Shelves
Bauer Designs opened the doors five years ago with the dream of producing the best quality Car Furniture on the market and is owned by Brian Bauer. It has since grown from just producing the Corvette based furniture to now including the 1969 Camaro, the Shelby GT 500 Mustang, the Cadillac CTSV, and is currently working on adding the 1970 Plymouth Barracuda.
Bauer Designs takes pride in producing the best quality furniture and BBQ Grills on the market today. The company uses Made in the USA materials to produce all of it's products. For more information, please visit our website.
100th Corvette Desk Give Away
As Bauer Designs has grown and produced a unique desk for each customer, it was decided to give back to the customer by offering a free desk promotion. This is a true Man-Cave contest where the winner will take home a FREE 2007 Corvette Desk painted a beautiful White with Blue racing strips. Simply submit a picture to the email address below and the best cave will be chosen. The drawing for the most unique Man Cave give away will be held May 30th 2013
To learn more about this contest, please contact
Brian Bauer
560 SW 1151 Rd Montrose MO 64770
Office: (660)492-5365
bauerdesigns(at)ymail(dot)com
http://www.CarCrazyDesks.com