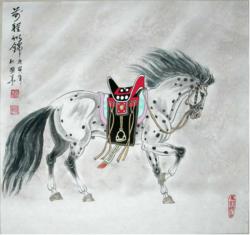 Artisoo has launched its exotic new range of Chinese paintings encompassing pure Chinese art.
(PRWEB) March 25, 2013
Recently, Artisoo.com, an online art gallery selling beautiful paintings, has launched its exotic new range of Chinese paintings encompassing pure Chinese art. The collection includes different types of paintings like Chinese landscape painting, animal art, floral and figure paintings.
Artisoo.com is an online marketplace which is aimed at bridging the gap between its new talented artists and the world which appreciates and understands the art. The company has a wide range of oil paintings and Chinese art. The new Chinese painting range promoted on its webpage is categorized in three different groups: landscape, animal, figure and birds/flower. The animal group includes some of the finest animal paintings and among them the Chinese horse painting assortment is the most appreciated one. Similarly, the Chinese bamboo painting collection has also gained immense approval and popularity.
The importance of art in human life can never be overemphasized. Different people speak different languages and arts is one of the most proficient and articulate expression of those who know how to master it. Moreover, artists use their brushes to fill the canvas with the colors that reflect the world residing deep within them. For those who understand paintings and have some knowledge about arts highly appreciate it. For those who want to understand this eccentric language can visit artisoo.com which is a complete art gallery accessible to everyone. The website offers valuable information and knowledge about oil paintings and Chinese paintings too.
The popularity of Chinese art is not lost on anyone; the world knows Chinese paintings for their cultural richness and uniqueness. They make the best articles of decoration for a home as well as a unique addition to a personal art collection. Each painting available at artisoo.com is a masterpiece worth collecting. The finished product is available with several customizing options; customers can have a frame and the size of their own choice. Even the colors of the paintings can also be altered. In addition to this, the affordable rates of these paintings make them all the more desirable. The worldwide shipping of artisoo.com makes it one of the best online arts platforms for people around the globe.
Artisoo.com was established in the year 2009 by Vincent and Zachary. The company has a team of beautiful minded artists who work to provide the best paintings to the art lovers out there. The availability of worldwide shipping and amiable customer services makes artisoo.com a very desirable platform.