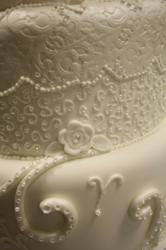 Considering I have no formal training. I am self taught " Jules creator of the Most Expensive Cake in the World
London, UK (PRWEB) March 25, 2013
Work from Home Mum started making Homemade Cakes and went on to set up her own business as a Cake Maker and Designer for the stars. From working in her kitchen 6 years ago - Jules from Chester Cake has managed to build a customer base of 8,000 loyal fans allowing her to set up her own shop and make the impressive Most Expensive Cake in The World Ever.
Jules tells us the highs outweighed the lows of her journey from Home Worker to being Self Employed and making cakes for Harrods of London to famous footballers. It has been through a personal service and ensuring that all customers felt special that word of mouth travelled around the local community, allowing Jules and Tim to gain the confidence they needed to work on their passion full time. In setting up a shop - a huge financial commitment was made - no longer the work from home mum, but now a business woman providing a customised product with unique customer service.
Valuable lessons for anyone thinking of starting their own business - especially in the recently booming homemade cake sector. Offer a great product with the best customer care possible to ensure your home working passion can move towards being a full time career.
There are clearly many Advantages of Starting Your Own Cake Business, just as Jules and Tim did in their own kitchen. Transforming a hobby into a Homemade Cake Business and then onto the World's Most Expensive Cake is something that anyone can do as long as you do a lot of research before starting - perfecting your small business niche and strategy is the key according to Jules who did a "year's research before we started and we visited numerous cake shops and bakeries to see what they offered".
About ProfileTree (http://www.profiletree.com): ProfileTree is a free listing service where self employed and small business owner can create an online marketing profile. From Homemade Cake Designers to established businesses - more and more people are using ProfileTree's online advertising to market their business.