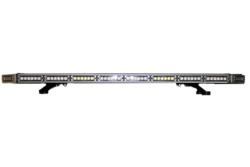 Brooklyn, NY (PRWEB) March 25, 2013
Whacker Technologies announces the launch of the Verve 2.0, the popular full size LED light bar based on the Verve with new technology and an upgraded design.
"We are proud to bring back the highly acclaimed Verve light bar that has been months in the making. The Verve 2.0 takes the plug-n-play technology of the Verve to an entirely new level, combining together affordability with safety and ease of use for any industry professional,"said Ariel Cohen, director of marketing for Whacker Technologies.
With a sleek new, low profile aluminum body, the Verve 2.0 features includes 120 Generation III LEDs with Whacker Technologies designed optics, an integrated arrowstick with center out, left and right warning options, 33 pre-programmed flash patterns including steady on, new LED takedown and alley light with Steadyburn technology or flashing mode, and an upgrade 9 switch plug-n-play control box.
The Verve 2.0 has 6 warning modules along the front of the bar and the back features 8 warning modules, 4 of which can be used as a traffic directional. All of the modules along the front and rear of the bar now have 6 LEDs per module providing 50 percent more warning light than the previous version of the Verve. The takedowns and alleys now utilize generation III LED technology. On the corners, there are 2 modules each containing 4 1-watt LEDs.
Pricing & Availability
The Verve 2.0 is now available for purchase directly from Whacker Technologies or online at http://www.emergencycity.com. The Verve 2.0 full size LED light bar is available for purchase for $799.99.
About Whacker Technologies Inc
Whacker Technologies, Inc., is headquartered in Brooklyn, NY and is the parent company of Whacker Technologies, Police Lightz, and EmergencyCity.com. Whacker Technologies manufactures and sells interior and exterior police lighting, sirens and accessories for vehicles of many industries.