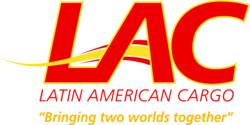 Small and medium businesses in Canada, the United States, and Mexico will be the first to see the effects of improved service and competitive pricing from Latin American Cargo.
Staten Island, New York (PRWEB) March 25, 2013
The Transportation Intermediaries Association (TIA) is the American member of the International Federation of Freight Forwarder Association, a massive organization that encompasses third party logistics companies around the entire world. Latin American Cargo (LAC) has recently joined the ranks of TIA, significantly improving their ability to perform in the United States and the Americas. One major goal of this move is to provide more specialized ground transportation services to small and medium sized businesses, the core of economies worldwide.
The TIA offers support to members in the form of a coalition. That is to say, members can speak through the organization to be better heard by governments and international organizations. By being a well-known representative for logistics companies, TIA gives every company under it's flag a better chance of having their goals accomplished and opening doors that may have otherwise stayed closed.
By becoming a member of the TIA, LAC has expanded their ability to serve the many small and medium sized businesses all over Canada and the United States. Benefits to TIA members come in a variety of forms, but the most obvious ones to help LAC are reliable and trustworthy networks and increased credibility.
By sharing in one of the largest associations of third party logistics, LAC is connecting with some of the best people in the business. Through these connections Latin American Cargo expects ground transportation services in the United States, Canada, and Mexico to improve in efficiency and cost. This is because with a stronger network shipments can be more reliable, making sure important shipments arrive on time and in good condition. This affects small and medium businesses the most, with each shipment being an important undertaking.
Latin America Cargo has always sought efficiency, and this new move is bringing them many tools to improve the quality and the competitiveness of their services. Small and medium businesses will be the first to feel these changes, being able to benefit from more cost efficient transportation in Canada, the United States, and Mexico.
About Latin American Cargo
Latin American Cargo (LAC) is a shipping and freighting company specializing in shipments going to and from different areas in Latin America. LAC acts as a freight forwarder with major offices in Canada, the U.S. and Mexico. Recently gaining NVOCC status in the USA, LAC has expanded its abilities to serve customers who need to ship their goods from Canada and the US territories to Latin America. LAC is experienced with air, sea and ground transport, and it's Mexfreight division, short for Mexican Freight, handles almost exclusively the transport to and from Mexico and acts primarily as a road transportation service.