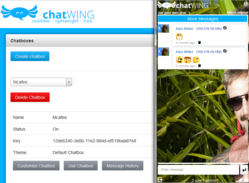 Cambridge, MA (PRWEB) March 25, 2013
Chatwing.com, an online company capable of making reliable chatroom apps, recently launches a competitive chat widget. One of the main purposes of the chat tool is to provide continuous streams of visibility for any blog or website. Aside from that, users can also gain exposure if their chatrooms are linked to others, raising the potential of global connectivity and social media advantage.
Chatwing's customizable chatbox has been used by many bloggers and website owners before. According to these users, the chatroom tool helped them create large subscriber bases, contributing to the overall popularity of their sites. With the new chat network feature, these users will be more inclined to their niches and they can even find new ways on how to market their advocacies, products, or services.
Accessing the chat network is easy. First, the user must go to his Chatwing account dashboard. There, he can choose from the available chat networks. The Chatwing chat app team will continue adding more chat networks in the coming months. The mechanism remains the same: users can change the appearance and parameters of the chatroom.
Through Chatwing's website chat tool, people will gain more advantage when it comes to communication. This is the reason why many bloggers and online marketers are using the Chatwing chatroom to fulfil their Internet-related goals. The chat tool's chat network feature can wholly improve the way users experience global connection.
About Chatwing.com
Chatwing.com specializes in the new field of website chat. Over years, the Chatwing team has introduced live chat widget for hundreds and thousands of blogs. The Chatwing application bridges people from many parts of the world, creating global synergy through the Internet. The shout box can be installed in just seconds, and it can be used for varying purposes such as leisure and Internet marketing. It also allows a user to customize the size, color, and name of the widget.