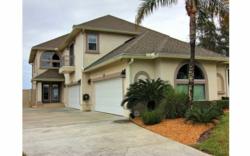 ...an incredible view of the river AND the ocean.
Amelia Island, FL (PRWEB) March 27, 2013
Representatives of Prudential Chaplin Williams Realty announced the sale of the high-end property at 10260 Heckscher Drive, North Jacksonville. Ten minutes from Amelia Island, this home sits on the famous St. Johns River Estuary and has both an ocean view and a river view. Prudential Chaplin Williams Realty is listing it at under $900,000.
Built in 2002, this 3000 square-foot tropical luxury home at 10260 Heckscher Drive in North Jacksonville, is only ten minutes from the beaches of Amelia Island, and is priced at only $859,000. The property overlooks the St. Johns River estuary and provides an incredible view of the river and the ocean. Arriving on the site, a 50-foot long cement driveway bordered by impeccable landscaping ends at a large four-car garage attached to the back of the house with two full-size garage doors.
Enter the home in the back to a spacious, open floor plan. A gas fireplace anchors a large family room in the heart of the house with built-in shelves, bar and cabinetry. The dining room is divided from the family room by columns with an exit onto the front porch and an incredible view. The adjoining kitchen is decked out in delicious cherry wood cabinetry and granite counters. The kitchen features a center island and a breakfast bar. A half bath is found on the ground floor.
The ground floor is sumptuously decorated with crown moldings and travertine panels. The open feel of the floor is attributable to the line of windows across the front of the house, affording a stunning view of the sea. Entry doors allow users to step onto the screened in patio beyond the family room. Beyond the dining room, an open-air porch waits, facing the sea.
The upstairs sleeping quarters features three large bedrooms and three full baths. The master suite bath has a fireplace. French doors open onto the balcony above the porch in the front. The balcony affords an excellent view of the sea. The property is extended in front by a long wooden dock and boat-lift on the backwater of the St. Johns River, and the sea stretches beyond. St. Johns River runs north from the backwater. The dock allows perfect access to the sea or to the marshlands inland, accessible by air-boats.
"Listing such a beautifully located, and well priced home is exciting news!" a representative of Prudential Chaplin Williams Realty said. "Prudential Chaplin Williams has become the most important real estate and marketing expert in Amelia Island. We carry some of the best listings of Fernandina Beach homes, Amelia Island ocean front condos, Yulee homes and Nassau County properties. Homeowners with high-end Amelia Island properties, or persons interested in purchasing high-end properties on Amelia Island would benefit from contacting Prudential Chaplin Williams Realty for information about available Amelia Island real estate and other properties."