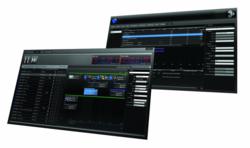 "...whether you need to prep a single channel of content or one hundred, Pixel OnDemand provides the scalability and quality to meet any challenge."
-James Gilbert, Managing Director, Pixel Power
Burbank, California and Cambridge, UK (PRWEB) March 25, 2013
Pixel Power, the innovative supplier of broadcast playout solutions with integrated graphics, today announced Pixel OnDemand, a new software-only package for on screen branding, promotion and creative graphics that will have its worldwide debut at the NAB 2013 Exhibition on April 8 at the Las Vegas Convention Center in booth N2034.
Pixel OnDemand packages Pixel Power's legendary core graphics engine into an easily deployed software package that runs on standard IT servers to meet the needs of nonlinear, store-and-play content delivery operations such as IPTV channels, video on demand services, mobile content, news operations, and second screen viewing applications.
Pixel OnDemand innovates high-end graphics production in several key ways:

A new usage-based fee structure allows operators to pay only when they output graphics from the software, dramatically reducing the capital outlay related to graphics and providing the flexibility for new operations to grow gracefully as their requirements evolve.
Pixel OnDemand runs on readily available, easily deployed standard IT server hardware. The software-based model simplifies installation of updates and upgrades.
Pixel for pixel, the rendered output from Pixel OnDemand is identical to the highest quality output from Pixel Power hardware-based live TV systems such as Clarity, LogoVision, BrandMaster and ChannelMaster.
Pixel OnDemand will offer a variety of add-on options including clips playout and 3D graphics to meet even the most sophisticated playout requirements.
Operators can deploy Pixel OnDemand graphics horsepower at discrete locations or distribute it across their organization to be used as a cloud-based application service, shared as needed between departments and facilities.
Built-in workflow management supports fully-automated, unattended workflows. Comprehensive, yet easily configurable load balancing and queue management capability optimizes the use of Pixel OnDemand graphics resources across multiple local or geographically distributed Pixel OnDemand installations.
Complete support for the automated population of prepared graphics templates ensures consistency, accuracy and reduces manpower requirements.
Pixel OnDemand makes it easy for operators to employ broadcast-caliber branding and promotion graphics on their services, as well as efficient, template-based automated workflows for their production, without taking on the capital expenditures required by live TV.
"Today's innovative TV services have very different operating and revenue models from traditional television and require production solutions that are equally creative in their approach," said James Gilbert, Managing Director of Pixel Power Ltd. "Pixel OnDemand delivers the best of both worlds. Operators gain world-class graphics capability and visually stunning output that equals the best graphics on live TV. At the same time, they get budget flexibility, low up front capital expenses, and support for the sophisticated, highly efficient workflows that are the hallmark of innovative nonlinear TV. Now, whether you need to prep a single channel of content or one hundred, Pixel OnDemand provides the scalability and quality to meet any challenge."
Pixel OnDemand will debut at NAB 2013 and is expected to become available by Q3 2013.
-ends-
About Pixel Power
Pixel Power provides innovative graphics production and playout delivery systems for broadcasters, OB truck companies, playout facilities, post-production houses, venues and sports complexes. Our award-winning branding and promotions systems, graphics-enabled master control switchers and sophisticated HD/SD switchable graphics production systems allow producers to deliver dynamic live and pre-recorded content for any SD, HD, 3D stereoscopic, mobile, online or interactive application.
For 25 years Pixel Power's engineering prowess and dedication to customer support have made it the industry's first choice. Our customer base of over 2000 systems includes market leaders like BBC, Discovery, ESPN, HBO, ITV, Sky, VIASAT and WDR.
Headquartered in Cambridge, England, Pixel Power has a subsidiary located in Burbank, California and a Middle East office in Dubai, as well as a global network of carefully selected and trained distributors to support any requirement.