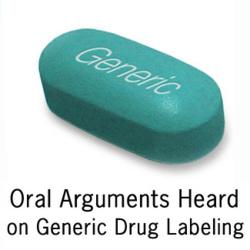 If you've been injured due to a harmful drug side effect, we urge you to contact Wright & Schulte LLC today through yourlegalhelp.com, or call 1-800-399-0795.
Columubs, OH (PRWEB) March 26, 2013
On Tuesday, March 19th, the U.S. Supreme Court heard Oral Arguments in Mutual Pharmaceutical Co. v. Bartlett, and debated whether or not patients injured by generic drug side effects should be permitted to file state law design defect lawsuits against the generic manufacturer, Wright & Schulte LLC reports. Richard W. Schulte, a partner with the firm, recently filed an Amicus Brief in the case, urging the Court to uphold a lower court decision that allowed such a claim to stand. (Mutual Pharmaceutical Co. v. Bartlett, 12-142.)
Mutual Pharmaceutical Co. v. Bartlett involves a woman who was severely injured by a generic painkiller. In 2011, the Supreme Court ruled in Pliva vs. Mensing that generic drug lawsuits based on state failure to warn claims were pre-empted because federal law requires that generic medications carry labels identical to their name brand counterparts. However, the First Circuit Court of Appeals upheld a $21 million jury award to the Plaintiff in Bartlett, finding that the Mensing decision did not apply to her state law claim of design defect. Mutual Pharmaceutical Co. then petitioned the High Court to overturn that decision and throw out the judgment.
According to a report from Reuters, during hour long Oral Arguments, several of the Supreme Court's Justices tried to clarify whether the Plaintiff's claims in Bartlett were sufficiently different from the types of claims limited by the Mensing decision. Chief Justice John Roberts appeared to recognize some difference, pointing out that the High Court's cases thus far have "focused on the concern that the state is going to impose on the manufacturer a different duty than the federal government." However, the thrust of state law is "if you do this, you're going to have to pay for the damage," Roberts said. However, both he and Justice Antonin Scalia also questioned whether juries should be tasked with weighing the risks and benefits of medications. The jury "said the risks outweigh the benefits, period, so you should not market this at all," Roberts said. "And it does seem inconsistent with the federal regime."
[reuters.com/article/2013/03/19/us-usa-court-generic-idUSBRE92I15E20130319]
Wright & Schulte Partner, Richard W. Schulte, is currently serving as Co-Lead Counsel in a federal multidistrict litigation established in U.S. District Court, Eastern District of Kentucky for claims involving the prescription drug Propoxyphene, sold generically and under the brand names Darvon and Darvocet. (In Re: Darvocet, Darvon and Propoxyphene. Products Liability Litigation - MDL 2226) Darvon, Darvocet and generic versions of Propoxyphene were withdrawn from the U.S. market in November 2010, after studies showed that healthy people taking normal doses of the painkiller had experienced serious heart side effects, including heart attacks, heart arrhythmia, and sudden death. On February 20th, Mr. Schulte, together with his Co-Lead Counsel and the Center for Constitutional Litigation, filed an Amicus Brief with the Supreme Court on behalf of all persons injured by Propoxyphene, urging the Court to allow the lower court ruling in Bartlett to stand. According to the Brief, the Court's ultimate decision in Bartlett v. Mutual Pharmaceutical Co. will directly affect those claims, as plaintiffs have asserted causes of action for strict liability design defect and/or closely related causes of action under state law.
[fda.gov/NewsEvents/Newsroom/PressAnnouncements/ucm234350.htm]
According to Wright & Schulte LLC, the Supreme Court is expected to render its decision in Bartlett v. Mutual Pharmaceutical before July 1st.
About Wright & Schulte LLC
Wright & Schulte LLC, an experienced drug injury law firm, is dedicated to the belief that America's legal system should work for the people. Every day, the attorneys of Wright & Schulte LLC stand up for the rights of people who have been injured or wronged, and fight tirelessly to ensure that even the world's most powerful corporations take responsibility for their actions. If you're looking for a law firm that will guarantee the aggressive and personal representation you deserve, please do not hesitate to contact Wright & Schulte LLC today. Free Darvon and Darvocet lawsuit evaluations are available through yourlegalhelp.com, or call 1-800-399-0795.
Contact:
Wright & Schulte LLC
812 East National Road
Vandalia, Ohio 45377
1-800-399-0795