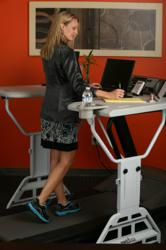 Read the reviews of actual treadmill desk users who have lost significant amounts of weight, and traded blood pressure, cholesterol, and blood glucose medications for a dose of daily walking
Scottsdale, AZ (PRWEB) March 25, 2013
Senator Orrin Hatch (R-Utah), ranking member of the Senate Finance Committee, expressed contempt for the newly formed Center for Medicare and Medicaid Innovation in Senate hearings this past week. Criticizing the Center as a bureaucracy that received "$10 billion in tax payer funds with no strings attached" he cited one particular aspect of the Center that most raised his ire: expensive treadmill desks. TrekDesk treadmill desk invites the Senator to re-evaluate his position based on recent medical studies, and competitive pricing.
"In a post-sequester world, where White House tours are being cancelled and Easter egg hunts are being threatened," Senator Hatch stated, "you can imagine why American people would take a very cynical view about federal employees being furnished with thousand-dollar treadmill desks." Senator Hatch's statements were reported online in The Hill (http://tinyurl.com/c9z5gz9).
"If the American people are cynical about anything these days, it is a Congress that attacks each other for political gain rather than the benefit of the country, " stated Steve Bordley, CEO of TrekDesk Treadmill Desk. "We aren't blaming Senator Hatch for a knee jerk reaction to the concept of treadmill desks, almost everyone expresses skepticism initially. However, the Innovation Center should be lauded for recognizing a simple truth. Treadmill desks address one of our nation's largest health challenges: sedentary office environments. No magic pill from a pharmaceutical company or congressional measure improving health insurance can compete with the health benefits of getting Americans up and moving again."
But what about the cost? Treadmill desks that cost thousands of dollars are a hard sell in any economic environment, let alone these challenging times. The truth is that the costs are much lower. The TrekDesk Treadmill Desk costs $479.00 (including delivery) and works with any existing treadmill to allow employees the opportunity to walk slowly while they work at an affordable price. Mass adoption of the treadmill desk concept could cut this price dramatically.
Is it effective? Walking has been proven to be the most effective measure to maintain and restore health yet the average American now walks less than 1/2 the minimum amount of steps in a day prescribed by the U.S. Surgeon General. That recipe for disaster has been accelerating since the 1970's and is a major component of the health challenges facing us today. "We would encourage everyone to read the reviews of actual treadmill desk users who have lost significant amounts of weight, and traded blood pressure, cholesterol, and blood glucose medications for a dose of daily walking. Treadmill desks allow employees the opportunity to improve and maintain their health and we would welcome an opportunity to educate Senator Hatch and other members of Congress to this fact," stated Bordley. "The National Institutes of Health estimates that 84% of all medical claims are attributable to poor lifestyle choices (e.g. poor diet, smoking, lack of exercise).While it is time that our nation's leaders search for innovative means to solve these issues it is also the responsibility of the American public to realize that no amount of governmental measures can replace personal responsibility for our health."
Designed to fit any existing treadmill, TrekDesk treadmill desk is an affordable, full sized, height adjustable workstation that allows individuals the opportunity to gain the necessary amount of exercise daily to maintain health, reduce stress, prevent disease, strengthen muscles, boost mood and productivity, without requiring additional time during the day or extra motivation. Wondering how to workout at work? TrekDesk treadmill desk offers the solution.
Join the TrekDesk "Movement Revolution" to learn more, spread the gospel regarding movement, or win a free TrekDesk http://www.facebook.com/trekdesk, or follow TrekDesk on twitter http://www.twitter.com/trekdesk. TrekDesk treadmill desk is currently available for sale online at http://www.trekdesk.com.