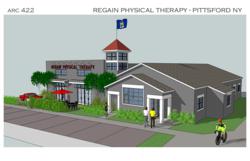 Over the past year, we help remodel many great spaces, so diverse as offices, local stores, and small medical practices.
Cambridge, Massachusetts (PRWEB) March 25, 2013
Arcbazar, a Cambridge based online company for architectural design announces a new resource that offers small-business owners an innovative solution to create personalized commercial and office spaces.
Neighborhood retail stores and business places are a pillar of community life and the fabric of American economy. There is love and sweat to bring a business to life, create an identity and a brand, and to grow and maintain loyal and supportive customers. Small-business owners think and live every detail out. However, this is a commercial segment that is often estranged to creative and functional design, since few owners can afford the cost of professional work.
Arcbazar addresses this need by crowdsourcing remodeling and interior design for commercial spaces. Every project is launched online and designers worldwide compete and submit solutions for the space. On average, the clients receive about nine design solutions for their projects, and many american retailers are already using this opportunity.
"We are bringing affordable but high-quality design to small-business spaces. We like to see this type of business flourish in our neighborhoods and we want to support them as we can. Over the past year, we help remodel many great spaces, so diverse as offices, local stores, and small medical practices. We even designed a customized dog day care center. Every project is unique and tailored to the needs and expectations of the client ", says Ana Batista, co-founder of Arcbazar.com.
Frank, who owns a marketing firm in Los Angeles, wanted a modern office with both work and relaxation areas. He initiated a competition on Arcbazar and received twenty-seven design proposals, ultimately opting for a proposal from Laszlo Nagy, a designer from Hungary. "Seeing different designers' imagination of how a particular room should look like and choosing from different options allowed us to decide on the final version of the design faster without having a long back and forth conversation with a single designer to modify the design."
A similar success story had Bola, manager of a small pediatric clinic in Florida. Her challenge was to maximize a long narrow space and to create defined areas to receive, screen, and treat babies and older children, and to create a playground in the backyard. The winning design was created by Gordana Potezica, from Serbia. Bola was extremely pleased with the results, and the once awkward layout is now being converted into a functional but welcoming medical space. "Those people were so hard working... It was a very good experience." Bola said.
About Arcbazar.com
Arcbazar.com, Inc. is the first-of-its-kind online marketplace for architectural design projects. The company connects clients with designers worldwide, and allows clients to run competitions for their remodeling, home, commercial and interior design projects. To learn more, visit http://www.arcbazar.com