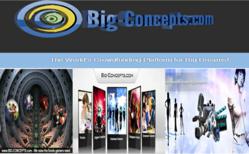 Mclean, Virginia (PRWEB) March 25, 2013
Big-Concepts allows people to utilize social media in order to reach out to people who believe in them and their concepts. The owners of Big-Concepts said, "we help dreamers, designers, artists, gamers, techies, and business owners find the support they need to build, produce, and create their very own Big-Concepts."
There are many reasons why crowdfunding has been so effective. With crowdfunding, it is easier for people to disseminate their goals and their business plans to the general public. Social media tweets and Facebook posts allow others to further dispel these campaigns to their own networks once they are involved. Quickly, crowdfunding has become an effective way to fundraise for individuals, businesses and organizations.
Crowdfunding is really great for those who are creating new concepts. Game developers, new technology, inventions, design fashion, art, music, and film makers are a few of the categories who typically receive significant funding from effective crowdfunding campaigns.
With crowdfunding, there is no need for people to come to a specific event or fundraiser. Because of this, it is easier for emerging businesses or artists to reach out to media contacts, online publications, and their email lists in order to generate increased exposure and support. Through a continuous online fundraiser, it makes it possible for people – anywhere and at any time – to support a cause or organization that they believe in.
Learn more about what Big-Concepts has to offer by visiting them online at http://www.Big-Concepts.com. Media inquiries can be directed to the staff at Big-Concepts by calling 571-291-1890 or email kevin(at)big-concepts(dot)com.