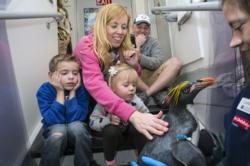 Chattanooga, TN (PRWEB) March 24, 2013
The Tennessee Aquarium is celebrating a tourism milestone and a new accolade ranking the attraction one of the best in the nation.
Nicole Brooks was surprised to learn that her trip to Chattanooga would turn into a giant celebration as she became the 20 millionth guest to visit the Tennessee Aquarium. Brooks was traveling from Indianapolis, Indiana, with her children Landen and Olivia and Stuart Danenberger, to Florida. "Olivia loves penguins and turtles, so I searched online and when I saw the Tennessee Aquarium's great reviews, we decided to plan a stopover in Chattanooga," Brooks said.
The family received a special package of gifts including a family membership to the Aquarium, VIP pass to other Chattanooga area attractions and a behind the scenes tour where they were introduced to a few curious penguins. "I love prizes," said Landen Brooks. "This is the best day ever." The family is excited to plan a return trip to enjoy all the city has to offer with their VIP Pass.
Coincidentally, this turned into a double celebration as FamilyFun magazine (familyfunmag.com), a trusted, go-to source for travel recommendations and family activities for more than 20 years, has recognized the very best in family travel for 2013. The publication surveyed 2,000 moms about their all-time favorite U.S. travel destinations. The Tennesee Aquarium was selected as one of the Top 10 Museums, Zoos & Aquariums in the country. Featured in the April issue of FamilyFun, the U.S. destinations included in the 2013 FamilyFun Travel Awards represent the cream of the crop in their respective categories.
###
The Tennessee Aquarium inspires wonder, appreciation and protection of water and all life that it sustains. Admission is $24.95 per adult and $14.95 per child, ages 3-12. Each ticket purchased helps support Aquarium conservation programs. The IMAX® 3D Theater is next door to the Aquarium. Ticket prices are $9.95 per adult and $8.50 per child. Aquarium/IMAX combo tickets are $30.95 for adults and $20.95 for children. Excursions aboard the new River Gorge Explorer depart daily into "Tennessee's Grand Canyon." Cruise tickets are $29.00 per adult and $21.50 per child (3-12). Advance tickets may be purchased online at http://www.tnaqua.org or by phone at 1-800-262-0695. The Aquarium, located on the banks of the Tennessee River in Chattanooga, is a non-profit organization. Open every day except Thanksgiving and Christmas, the Aquarium and IMAX are accessible to people with disabilities.
ONLINE press kits & downloadable images: http://www.tnaqua.org/News/Newsroom.aspx