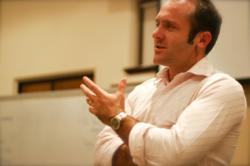 "It is a dangerous and toxic culture for young men and that is bad news for young women as well."
(PRWEB) March 25, 2013
A new boys' education program called The Men We Need has seen a large amount of interest from teachers and boys' education specialists in the last week.
Since its launch last week hundreds of teachers have subscribed to the new website showing the key issues that boys face remain at the forefront of many teachers minds.
The program, delivered via online video modules and student workbooks addresses a range of important issues in boys' education such as lack of father figures and mentors, attitudes to women, the impact of internet and pornography addiction, drug and alcohol issues and also related problems such as violence and bullying.
Developed by successful educational media business Choicez Media the program aims to give teachers, parents and school communities a suite of tools aimed at addressing a range of outcomes being experienced by young men.
Choicez Media director Jonathan Doyle commented, "In recent decades we have seen some fantastic advances for young women in key areas of our education sector. There is still much to do and no one would begrudge those outcomes but sadly, as often happens with any sociological pendulum swing, our boys have been left behind."
Doyle argues that complex factors such as the impact of media and marketing, lack of validation via meaningful initiation processes, absent fathers and the advent of major technological changes such as the mass availability of online pornography have had a major upon young men. He states, "Many of our young men are growing up in a toxic media culture that fragments their sense of self and commodifies masculinity into a narrow bandwidth of antisocial behaviours."
The programs main modules address important issues for young men in an attempt to drive a series of better outcomes. The seven modules include topics such as 'Better Relationships With Women, Understanding Pornography and The Nobility Of Manhood."
The program was filmed over the last two years and and can be accessed by schools around the world via the Internet through an annual licencing fee.