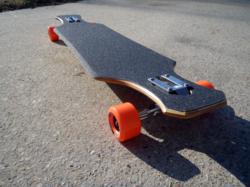 This is a longboard that will help any rider push the progression of their riding.
(PRWEB) March 28, 2013
The longboard skateboard company, Faceplant Boardriders, is no stranger to the progressive freeriding realm of longboarding. FB creates longboard skateboards with the riders' needs in mind. "Being a rider owned and operated company has given us an edge over our competition because we are always listening to the riders' wants and needs and delivering boards the riders want", stated FB Owner Ricky Wheeler. One of their redesigned shapes for the 2013 season is the "Siamese Hammerhead".
The Siamese Hammerhead is part of the 'Freeride Series' from Faceplant Boardriders. The Freeride Series features boards that are designed to give a rider pure confidence when doing fast freeriding. Freeriding has become very popular in longboarding and is when a rider "expresses themselves" in each downhill run on their longboard. The rider will flow with style, lay down slides, go fast, and create a run that is a work of art. Freeride runs are primarily full of slides and some freestyle.
The redesigned Siamese Hammerhead still holds the same shape and drop through design that a lot of longboarders have come to love. Faceplant Boardriders added more concave to the deck of the Siamese Hammerhead, and it still maintains the rockered shape throughout the board. Between the drop through design and rocker, the Siamese Hammerhead has a low center of gravity, which makes it a very stable ride and also is very easy to push. The wide standing platform on the Siamese gives the rider plenty of room to set their feet while laying down some downhill freeride runs.
The best part of this deck is the Slideez Rail Construction. What Slideez does for the rider is it makes sliding even easier due to the angled rail which allows Faceplant Boardriders to wrap the grip tape around from the top deck to the rail so the rider's feet stay locked into place on the edge of the board throughout your slides. Due to the rockered deck, the rider doesn't have to worry about the grip tape getting torn up on the edges of the standing platform (where a rider needs the most grip in your slides) when the board flips over and slides on the pavement because the two tips will be the contact points.
The Siamese Hammerhead from Faceplant Boardriders is a premier freeride deck that was designed to live up to the abuse any freerider inflicts on their longboard. With an internal carbon fiber layer and E Glass sandwich construction, it is strong and built to last. "This is a longboard that will help any rider push the progression of their riding," stated FB Owner Rob Wheeler. The Hammerhead starts at $169, which is a price that doesn't break the bank. As with any Faceplant Boardriders longboard, you can custom order your own personal graphics as well.
Specs:
Length~42"
Width~10"
Wheelbase~33.5"
Thickness/Plies~12 plies with internal Carbon Fiber Layer and E-glass sandwich construction.
Flex Rating (1=stiff – 10=flexible): 2
One can see more about the Siamese hammerhead on the Faceplant Boardriders website at http://faceplantboardriders.com/products/category/957