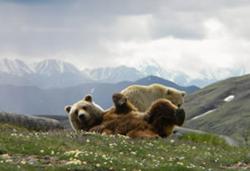 Peg has chosen the best sites and sights, the timing, the opportunities to try some new things, and she lets you be yourself within those plans.
Anchorage, AK (PRWEB) March 27, 2013
Naturalist Journeys, a top nature and birding tour company, is proud to announce their upcoming June 5 to June 15, 2013, Alaska Nome and Denali wildlife tour, with an optional extension to Nome. With three nights at Denali's renowned North Face Lodge and its dedication to green and sustainable practices, this tour is true to the ethics of responsible travel practiced by owner Peg Abbott.
"North Face Lodge's philosophy of living lightly on the land is evident in all they do," Abbott says. "They raise much of their own produce, use local seafood, and recycle whenever possible. Responsible travel does not have to be a sacrifice, and this lodge is the perfect example. Guests are treated to a wonderful, luxurious experience in the midst of incredible natural beauty."
In addition to the North Face Lodge in Denali and the wildlife experiences provided there, this tour spends time in wildlife-rich areas near Anchorage, Seward, and Homer.
"More than any place in North America, Alaska retains its wild character and ecological integrity, making participation in a top birding and nature tour here simply a "must do" experience," Abbott says. "We visit in June when we have endless hours of daylight to explore. It is an active time for birds and wildlife feeding young in the short summer season. Our Alaska wildlife tour is one of our most popular, a nature and birding tour designed to visit signature landscapes from seacoast to tundra."
Space in Denali, especially at the North Face Lodge, is very limited, and requires considerable advance reservations. Three spots are still available on this tour, but they need to be secured soon. An Alaska wildlife tour that samples much of Alaska's magnificent scenery would not be complete without a boat trip into the Gulf of Alaska and Kenai Fjords National Park from Seward, and that is also included.
For those with more time, and optional extension to Nome is offered. This destination is reached by air from Anchorage.
Naturalist Journeys' 11-day guided Alaska tour is limited to 12 persons. Find full details of Naturalist Journeys' Alaska Nome and Denali Wildlife Tour at http://www.naturalistjourneys.com/jcalendar/jc_alaska13.htm.
More about the Alaska Nome and Denali Wildlife Tour, June 5 – 15, 2013, with optional Nome extension May 31 – June 5, 2013
The tour features 3 nights in Anchorage, 3 nights in the North Face Lodge in Denali National Park, 2 nights in Seward, and 2 nights in Homer. The pre-trip extension to Nome spends 4 nights in Nome. Wildlife abounds, including Moose, Grizzly Bears, Whales, and many birds. Gyrfalcons, Long-tailed Jaegers and Snowy Owls may all be seen. The long days of June are an ideal time to visit Alaska. Hiking opportunities abound in all locations.
About Naturalist Journeys
Naturalist Journeys LLC, a top birding and nature tour company, offers specialty small group travel worldwide, from the western U.S. to Alaska, Hawaii and Florida, Costa Rica, Panama, safaris in Africa and more. Naturalist Journey's guided nature and birding tours feature expert guides with decades of experience in bird-watching, travel photography and other forms of eco-tourism. Naturalist Journeys also offers hiking and adventure travel tours in many national parks and wildlife reserves, including the Galapagos, Antarctica and the Amazon.