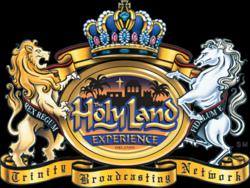 (PRWEB) March 25, 2013
Easter week has always been an important and exciting time at Trinity Broadcasting Network's Holy Land Experience, the Orlando, Florida vacation and worship destination where the land of the Bible comes alive for hundreds of thousands of visitors every year. This Easter season will be no exception as a modern, big screen cinema classic, musical dramas, and moving worship services combine to make this year's commemoration of Christ's death and resurrection truly unforgettable.
"Easter is a special season for all believers, when we celebrate the very foundation of our faith," said Jan Crouch, TBN co-founder and president of the Holy Land Experience. "At the Holy Land Experience there is a tone of reverence and expectancy during the entire week. No one who participates ever forgets the experience."
Beginning March 28 and for several nights throughout the week Mel Gibson's riveting classic The Passion of the Christ will be shown on the giant screen at the Holy Land Experience's 2,000-seat Church of All Nations. Since its historic release, this intense and unforgettable film has changed the lives of millions with its up-close portrayal of the suffering and death of Jesus for the sins of all humanity. Click Here for dates and times for the screening of The Passion of the Christ.
Throughout Easter week, a number of respected preachers, teachers, and Christian leaders will be speaking in special services at the Church of All Nations, including Pastor Jonathan McKnight, Pastor Johnathan Miller, Dr. Mark Chironna, and Pastor Paula White.
The highlight of those events will be a special Good Friday communion service on March 29, led by internationally renowned pastor and Bible teacher Benny Hinn. "This is a special service you will not want to miss," said Mrs. Crouch. "Benny Hinn is a deeply esteemed ministry partner at TBN who has ministered in healing and miracles all over the world. This is going to be a moving, life-changing service." Click Here for more information on the Good Friday service with Pastor Benny Hinn.
Holy Land Experience is famous for its inspirational productions and musicals powerfully depicting stories from Scripture that have inspired and challenged individuals for thousands of years. And heading up the the live productions featured during Easter week will be Holy Land Experience's most acclaimed and requested drama, Behold the Lamb. This powerful live production depicts Christ's betrayal and arrest, his path along the Via Dolorosa, his sorrowful crucifixion at Calvary, and His glorious resurrection. Filled with stirring music and heart-stopping action, Behold the Lamb puts guests in the middle of the most amazing event in all of human history.
Jan Crouch noted that the special Easter week schedule is just a part of the activities in store for visitors at the Holy Land Experience. "Every part of what we've created here — the sights, the sounds, and the entire atmosphere — is designed to impact the entire family," she said. "It's inspirational, educational, challenging — and unforgettable! And we think Easter Week is one of the best times for individuals and families to be here."
More About the Holy Land Experience
The Holy Land Experience is an exclusive interactive vacation and worship destination in Orlando, Florida that combines music, drama, and historical exhibits to offer visitors a face-to-face encounter with the transforming truths of the Bible. Bringing together the sights, sounds, tastes, and feel of the Bible world, the Holy Land Experience is a uniquely educational and inspiring experience. Its structures and exhibits accurately characterize the style, architecture, and settings of ancient Jerusalem, while its lively presentations provide visitors with one-of-a-kind scriptural perspectives. Colorful and dramatic re-creations of the ministry of Jesus, unforgettable stories from both the Old and New Testaments, glorious miracles, and life-changing triumphs will move and inspire guests of all ages. For more information on the Holy Land Experience, visit http://www.holylandexperience.com.