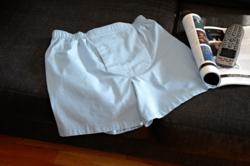 Columbia, SC (PRWEB) March 28, 2013
Augeogreer and Associates in Minneapolis MN will work toward branding the Ubatuba product. The unique abilities of Augeogreer will be able to complement the unique features of this new type of men's boxer shorts.
Augeogreer feels that their branding concepts will inform the public of the reasons why men should wear Ubatuba boxer shorts instead of today's regular boxer shorts.
The Ubatuba brand will focus on advertising how the multifunctional Ubatubas will be more than a soft piece of fabric separating the skin from rough outer wear.
The Ubatuba brand carries an off-center fly that will prevent fall-out from occurring. In addition, there is a three ply front that will keep after restroom spots from forming on the wearer's trousers.
Ubatubas are not only more functional but also more comfortable to wear.
More from Augeogreer to come soon.