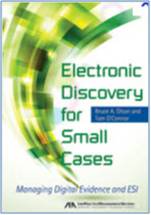 "the book offers effective, budget-friendly solutions for collecting, viewing and analyzing electronic evidence that will benefit law firms and corporate legal teams as well."
Seattle, WA (PRWEB) March 25, 2013
GGO, creators of the Digital WarRoom platform for accessible, affordable e-discovery, today announced that e-discovery consultant, author and attorney Tom O'Connor will meet with conference attendees at the ABA Techshow 2013 in Chicago. O'Connor will be joined by noted attorney, consultant and author Bruce Olson, principle of OnLaw Trial Technologies, LLC . This special 'Meet the Authors' session will take place at the Digital WarRoom booth #806, in the ABA Techshow Exhibit Hall in the Chicago Hilton, Thursday April 4th from 3:00 pm to 4:00 pm. Bruce and Tom will have a limited number of complimentary copies of the new book "Electronic Discovery for Small Cases: Managing Digital Evidence and ESI" on hand for signing. The book, published by the American Bar Association, is also available for purchase on the ABA Website. Techshow Conference attendees are encouraged to stop by the Digital WarRoom booth to meet the authors, and discuss challenges with e-discovery for smaller cases.
"We wrote the book specifically to address mid-size and smaller cases" said Bruce. "For firms with limited technology budgets, or cases with small volumes of digital data, e-discovery can be challenging. Our goal in the book was to offer effective, budget-friendly solutions for collecting, viewing and analyzing electronic evidence that will benefit law firms and corporate legal teams as well."
"I enjoy ABA Techshow every year, and I'm looking forward to talking with Techshow attendees at our book signing session" said Tom. "Boutique and smaller law firms, as well as solos, are on the cutting edge in learning and adopting automated methods in e-discovery, and I am impressed by the energy directed at Digital WarRoom and other solutions for mainstream cases."
About Digital WarRoom e-Discovery Platform
Digital WarRoom is the first e-discovery platform to provide law firms, corporate legal and e-discovery teams with complete ESI processing, document review and production in a single application, eliminating traditional high-cost volume-based processing fees. GGO created the Digital WarRoom technology for in-house use by solo attorneys, corporations and law firms to address document processing, review and production in legal matters of all types. The software is licensed in a variety of forms, addressing any size law firm or matter:

Digital WarRoom Pro, the first Windows PC-based product for e-discovery, allowing an individually licensed user to conduct complete e-discovery on a Windows computer;
Digital WarRoom WorkGroup, a client-server application that allows corporate IT, in-house legal, or law firm e-discovery practitioners to manage e-discovery case data processing, document review and production without high priced volume-based processing;
Digital WarRoom Remote hosted e-discovery, a full-service hosted platform designed for distributed and virtual team access to case data.
The Digital WarRoom platform is unique in its ability to create and save case data in a portable form. A case database created on any Digital WarRoom product can move seamlessly to any other Digital WarRoom product, with all attorney work product preserved. This unmatched flexibility allows organizations to cost effectively handle an entire portfolio of matters in-house, while retaining the option for full-service hosted review on larger, complex and global matters. To learn more about Digital WarRoom visit http://www.digitalwarroom.com.
About Tom O'Connor
Tom O'Connor is a nationally known consultant, speaker and writer in the area of computerized litigation support systems. He serves as Senior E-Discovery consultant at GGO. Tom is a frequent lecturer on the subject of legal technology. He's also a prolific writer, having authored numerous articles in legal publications such as this one and several books, most recently EDiscovery for Small Cases from the ABA. Tom is a New England native, but currently resides in New Orleans where he is engaged in a number of pro bono activities for the Gulf Coast legal community.
About Bruce A. Olson
Bruce A. Olson is founder and president of ONLAW Trial Technologies, LLC. Prior to assuming a full-time legal technology consulting practice, Mr. Olson was a shareholder in the Wisconsin-based law firm of Davis and Kuelthau, SC. He is an experienced civil trial lawyer with almost thirty years of active practice in the areas of commercial and business litigation, employment litigation, computer technology related litigation, product liability litigation, professional liability defense and environmental litigation.
About GGO
Since its inception in 2002, GGO has provided e-discovery hosting services, consulting and project management on over 3500 complex e-discovery matters in response to litigation, government investigations, M&A actions and other legal challenges. Custom services include forensic analysis, target data preservation from Enterprise ECM systems, WIKIs, collaborative tools, web and cloud-based applications, and Gist™ Technology Assisted Review. In 2011, GGO introduced the Digital WarRoom® line of software products, spanning the entire e-discovery lifecycle from capture through processing, review, and production.
Headquartered in Seattle, GGO also provides hosting and services at offices in New York, Santa Clara, San Francisco, Dallas, Los Angeles, New Orleans and London, serving all markets in Europe, Asia and North America. Leading global corporations, Fortune 1000 companies, Am Law 100 law firms, and government agencies, including the Library of Congress, rely on GGO for robust technology and personalized service. To learn more about GGO, visit http://www.ggollc.com