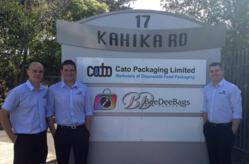 Auckland, NZ (PRWEB) March 26, 2013
Bee Dee Bags had previously been renowned for great sales values and honest service all over the great sunburnt country, Australia. They've picked up and taken the same great attitude and proven record to their friends in New Zealand.
Based in Auckland, Bee Dee will operate and enable the local market to benefit from it's competitive pricing and volume discounts, able to ship the famous 'bags-of-steel' nationwide.
Over the past few weeks their most experienced staff have helped to maintain a great and ongoing presence on the road in NZ, as well as in town at the Trade Shows and up-coming show's where they've been spotted offering fantastic prices, often well below the competition. They are able to do this as they increase volume holding good stock levels of their products locally in Auckland.
Bee Dee Bags New Zealand have many ranges of Paper and Plastic packaging ready to send to new and existing customers, this will include their popular range of Tissue Paper and the instantly successful Wrapping Paper Rolls.
General Manager Cain Gawne states: "the positive reception we've received and the price point we're offering is unrivaled. This confirms what I've been hearing that New Zealanders are keen to have the competition and experience on site and in store. We have the facilities and capacity to grow with the NZ Market and our Local Team are more than ready to assist, I'm very confident this was the right move and market for us."