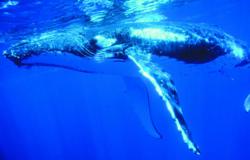 With over 170 islands arrayed across 740,000 square kilometres of West Polynesia, the Kingdom of Tonga is one of the most beautiful and unspoiled of Pacific island nations
The Kingdom Of Tonga (PRWEB) March 27, 2013
Twenty years from the first license granted in 1993, the Kingdom of Tonga continue to provide visitors the unique opportunity to swim with whales.
Unlike whale watching, swimming with humpback whales is an experience limited to just 3 locations worldwide, with Tonga being one of only 2 locations in the Southern Hemisphere.
Pioneered in the early 1990's by Whale Watch Vava'u in conjunction with scientists from South Pacific Whale Research Consortium, there are now more than 10 operators in Tonga offering conservation minded encounters with these majestic ocean mammals.
Southern Humpback Whales make an annual return from the icy depths of Antarctica to the warm, unspoilt, waters of the Vava'u island group to breed and give birth to their young.
Once hunted to near extinction, visitors to Tonga can now swim within metres of these giants of the sea for a once in a lifetime experience. Renowned for often swimming close to shore, humpback whales also display spectacular open-mouth surface feeding techniques and courting males offer haunting songs of love that can carry for up to 100km across the ocean.
Tonga's regulated whale watch encounters have become internationally successful, attracting visitors from across the world. Featured in diverse media including the UK's BBC Life Documentary series, Tongan whale watching and swimming was also voted one of the best 10 experiences in the world on Australias 'Getaway' television Travel series.
The unpolluted and crystalline waters of Tonga's 150 islands also offer exceptional diving and snorkelling experiences with visibility of up 100 feet of sea life including dolphins, turtles and the magnificent manta ray.
Priced from US$1700, independent travellers can visit this unspoilt, unhurried Pacific island paradise on daily flights from Los Angeles to Auckland, New Zealand before connecting to Tonga five times a week.
From basic backpacker shared rooms to exclusive resorts, the Kingdom Of Tonga has accommodation to cater to all budgets with whale watching tours priced from less than US$300 per day to comprehensive weeklong whale and diving encounters shared with conservationists, marine biologists and professional wildlife photographers.
A visitor's permit (valid for 31 days) is issued to United States, United Kingdom and European citizens free of charge on arrival in Tonga with provision of an onward/return air-ticket.
For more information go to http://www.thekingdomoftonga.com