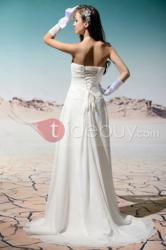 (PRWEB) March 25, 2013
TideBuy.com is a China-based wedding dresses company, and has recently launched a promotion for its wedding dresses 2013 collection. Today, they announce to extend this promotion to April 15, 2013 to show appreciation to all the customers..
TideBuy's dresses are well-known for high-quality fabrics, fine sparkling beads, exquisite embroidery, and proper ruching. The wedding dresses 2013 collection is no exception. According to Edmond Liu, a spokesman for TideBuy.com, they have received many positive comments for these new dresses, and many clients worldwide has expressed their willingness to buy wedding dresses if the promotion prolonged.
"We are pleased to extend the promotion to show our appreciation to our loyal customers, and expand our online market as well. All the wedding dresses are still available with grand discounts, up to 75% off. For those who want to cheap wedding dresses, it's time to shop for yourself now," said, Edmond Liu.
In addition to wedding dresses, clients can also find thousands of bridesmaid dresses, long evening dresses, short cocktail dresses, and more on the updated website of TideBuy.com. The company hopes to give each woman a chic new look with its fresh designs at affordable prices, and they have promised to spare no energy to provide top-quality dresses for costumers as well as fast delivery."
About TideBuy.com
TideBuy.com offers one of the most extensive and stylish collections of wedding dresses and other special-occasion dresses at acceptable low prices, and its products include wedding dresses, prom dresses, cocktail dresses, and, etc. They are devoted to helping couples design their own wedding dresses without sacrificing the top-quality materials and fast delivery.
More information can be found at:
http://www.tidebuy.com/?utm_source=content&utm_medium=news&utm_campaign=index