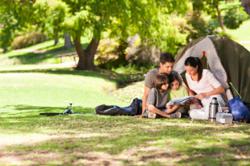 Proper precautions should be taken when collecting and handling drinking water
(PRWEB) March 25, 2013
According to the Watershed Assessment published online by the Environmental Protection Agency (EPA), the United States consists of 6,459,606 acres of good water versus 13,606,107 acres of impaired, or polluted water.
Sureaqua, portable water filter company, have published a series of two article on Water Pollution that serve as a great reminder of the dangers of polluted water for holiday makers, specifically for families who are camping or caravanning this Easter Holiday.
"We wanted to remind holiday makers of the potential pollutants in drinking water, but also remind them to be sure to take care, be prepared, know what the dangers are, and know where your drinking water supply is going to come from." said Robert Domanko, Founder and Director of Sureaqua.
Water is a fundamental part of any camp site. It's needed for drinking, cooking, eating and washing. As holiday makers flock to remote parts of the country for camping and holiday trips, there's two things to keep in mind. Proper precautions should be taken when collecting and handling drinking water, but holiday makers should also take care not do anything that may pollute the area.
"We all have to be aware of the water crisis in the U.S.A. at the moment, but we must also remember that the prevention of any further pollution begins with us," continued Mr. Domanko.
For more information on what could be hiding in your camping water, follow the link below:
http://www.sureaqua.com/_blog/NEWS/post/Part_1_The_Effects_of_Polluted_Water/
For more information on how to prevent pollution visit the link the link below:
http://www.sureaqua.com/_blog/NEWS/post/Part_2_The_Effects_of_Polluted_Water_Pollution-_Prevention_of_Water_Pollution/
For more information on Sureaqua, follow the link below to visit their official website: