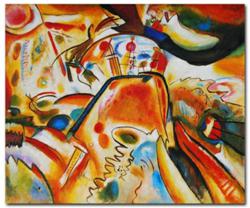 even the most budget restricted among us can now have a beautiful space in which to live and work
New York, NY (PRWEB) March 26, 2013
Wassily Kandinsky is often credited as being the very first pure abstract painter. His works continue to be popular among both artists and the general public for their vibrant colors which sharply contrast the backgrounds, as well as his use of non-geometric shapes that are guaranteed to draw attention. As such, his art is appropriate for offices, businesses, and homes, as it both livens up a room and serves as a conversation piece.
CanvasPaintings.com is proud to present their new line of Kandinsky canvas art. The famed Russian painter's most well-known pieces such as Composition X and Small Pleasures are now available for purchase. These brilliantly reproduced works of art are actually painted by hand on canvas, providing a level of quality that prints simply cannot match. The reproductions are as close to the real thing as one can get without having to visit a museum or pay millions of dollars.
CanvasPaintings.com offers multiple sizes for each reproduction, ensuring that you not only find the perfect piece to match your room's decor, but also that it has the appropriate length and width. These paintings start at under a hundred dollars each, and are excellent choices for anyone looking to create a dazzling space which friends, family, and clients will enjoy. With a modest budget, you can have your very own Kandinsky collection adorning the walls of your home or business.
As with all paintings available from CanvasPaintings.com, these Kandinsky works of art are ready to hang right out of the box. As a matter of fact, the paintings can be stretched and gallery wrapped for an additional modest fee. So within just a few minutes of receiving your shipment, you can have the piece displayed for everyone to appreciate. Newly purchased art hand painted upon order to give each art buyer a unique piece, so when you need a decorative solution but don't have the time to waste, then consider the Kandinsky collection from CanvasPaintings.com.
The way which Kandinsky expressed himself through colors and linear form has never been matched by any other artist. His unique compositions continue to be discussed by art historians and scholars. When you choose Kandinsky for your own living space or business, you make a unique statement about your own tastes and appreciation to which other people will respond positively. Art allows for us to express ourselves and communicate with one another on a level often unmatched by spoken or written words, enriching our lives in the process. To paraphrase George Bernard Shaw, without art the crudeness of reality would be unbearable. Fortunately, with the abundance of art such as the Kandinsky line offered through CanvasPaintings.com, even the most budget restricted among us can now have a beautiful space in which to live and work.
For other famous art, please visit CanvasPaintings.com.