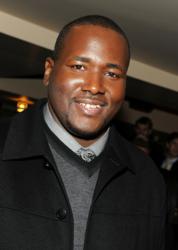 "I don't shy away from the fact that I was bullied," says Aaron. "Thankfully, I made the decision to change the direction of my life. It brought forward a positive outlook."
Tampa, FL (PRWEB) March 25, 2013
Quinton Aaron, the actor who co-starred with Sandra Bullock in the 2010 Oscar-nominated movie, "The Blind Side," is using his star-power to fuel a 31-state Anti-Bullying Tour, featuring leadership breakfasts, town hall meetings and special appearances, including the Quinton Aaron Foundation Bowling Tournament in Chicago, April 4. Aaron and his foundation will be bringing an anti-bullying message to over 112,000 students, their families, schools and communities, and fundraising for anti-bullying programs. For the complete tour schedule, go to http://www.quintonaaron.org, or to make a donation or purchase a raffle ticket where all proceeds go to anti-bullying campaigns, and one winner will take home a Honda Fury motorcycle or $10,000, go to http://www.brownpapertickets.com/event/359885. For more information, call Brown Paper Tickets' 24-hour live customer service at 1-800-838-3006.
An underdog himself, Quinton's story is well-known. "I don't shy away from the fact that I was bullied," says Aaron. "Thankfully, I made the decision to change the direction of my life. It brought forward a positive outlook."
Quinton Aaron, best-known for his portrayal of Michael "Big Mike" Oher in the blockbuster movie, "The Blind Side," now dedicates himself to finding meaningful solutions and helping children who find themselves victims of bullying.
He is determined to engage with communities, and plans on building long-term relationships through his recently-formed foundation. "I want to educate young children and teenagers by calling attention to bullying. When kids are involved in bullying, they often play more than one role. It is important to understand the multiple roles kids play in order to effectively prevent and respond to bullying," Aaron said. Quinton's approach in dealing with the issue has already proven tremendously successful, and he looks forward to touching the lives and teaching as many people as possible along the way.
Aaron's Anti-Bullying Tour will reach the following cities in the next five weeks:
Baltimore, MD 3/26
Philadelphia, PA 3/27
New York, NY 3/28
Montreal, Quebec 3/31
Ottawa, Ontario 4/1
Kingston, Ontario 4/1
Toronto, Ontario 4/1
Cleveland, OH 4/2
Chicago, IL 4/3
Indianapolis, IN 4/6
St. Louis, MO 4/6
Kansas City, MO 4/8
Denver, CO 4/8
Las Vegas, NV 4/10
Los Angeles, CA 4/12
San Diego, CA 4/14
Phoenix, AZ 4/15
Flagstaff, AZ 4/15
Albuquerque, NM 4/16
Dallas, TX 4/17
Houston, TX 4/19
New Orleans, LA 4/21
Birmingham, AL 4/22
Pensacola, FL 4/23
Tallahassee, FL 4/24
Gainesville, FL 4/24
Tampa, FL 4/27 The Quinton Aaron Foundation "Welcome Back Gala"
To get more information about the tour, call for bookings, appearances or event schedule for each city, contact Joe Wynn, Director of the Quinton Aaron Foundation at (813) 484-4345, or email joe(at)quintonaaron(dot)org, or David Tyler, Executive Director of the Quinton Aaron Foundation at (727) 278-8586, or email david(at)quintonaaron(dot)org.
About The Quinton Aaron Foundation: The Quinton Aaron Foundation, is a national 501( c )( 3) charity and was founded by Aaron in October 2012 to bring awareness to the issues of bullying and childhood obesity. The Foundation educates young children and teenagers by creating attention, awareness, support and solutions to the issues of bullying and childhood obesity. The Quinton Aaron Foundation looks to fill the gap between despair, reconciliation and healing.
Connect with Quinton Aaron and his foundation on Facebook at https://www.facebook.com/qaaron1?fref=ts, on Twitter @QuintonAaron, on YouTube at "Anti Bullying Quinton," and on Instagram at QNTNAARON84.
###
EDITOR'S NOTE: Quinton Aaron is available for media interviews; please contact Joe Wynn at joe(at)quintonaaron(dot)org, or call Joe at (813)