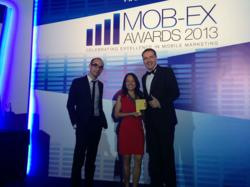 ....we continue to deliver the best quality mobile services
(PRWEB) March 26, 2013
PropertyGuru Group, South-East Asia's market leader for online property search, took home its latest gold wins for Best Mobile App by a Media Owner and Best Informative Use of Mobile as well as the runner-up award for Best Mobile Advertising Solution at Marketing Magazine's inaugural Mob-Ex Awards in Singapore, recognising the Group's breakthrough in pioneering mobile application research and development for property buying and selling.
Celebrating the best in mobile marketing initiatives, the gala event saw entries from various industry organisations vying for top honours in 23 award categories judged by a distinguished panel of veteran marketing professionals from major brands.
Competing against more than 50 shortlisted companies, PropertyGuru's dual awards haul for its Consumer and AgentNet apps is testament of the Group's successful strategy of focusing on mobile technology to expand its share in the mobile market. To date, PropertyGuru has launched 13 mobile apps in 4 countries on Android, iPhone/iPad and Blackberry platforms within less than 2 years.
Picking up the Gold Award for Best App/Content by a Media Owner, PropertyGuru Group's AgentNet Apps have been downloaded more than 56,000 times regionally with an average of 16,000 active users, contributing up to 122,000 visits and 1,000,000 page views to the mobile app homepage to add on to its multiple accolades from last year's OPP Awards and the Singapore IT Federation (SiTF) Award for mobile innovation in 2011.
The Consumer Apps were named Gold winner for Best Informative Use of Mobile for garnering more than 550,000 downloads in the region used by an average of 181,000 active users of apps monthly, contributing an outstanding 1.3 million visits and 20.3 million page views to the mobile app homepage.
According to Louis-Bernard Carcouet, PropertyGuru's Mobile Product Manager, "Our goal is to be the first to launch mobile apps catered to suit the needs of both property seekers and real estate agents on the go. Winning at the Mob-Ex Awards is an achievement which we are proud to receive and is indicative of how our work in mobile is integral for sustaining PropertyGuru's dominant market position."
Steve Melhuish, Chief Executive Officer for PropertyGuru added, "We're honoured to be recognised for our efforts in mobile innovation and this is indeed another pivotal milestone for PropertyGuru. As our brand continues to grow, we will be looking forward to develop more ways to enhance the user experience for both agents and property seekers to ensure that we continue to deliver the best quality mobile services".
-----------ENDS-------------------
About PropertyGuru Group -
PropertyGuru Group is Asia's leading online property portal group used by almost 11 million property buyers, viewing over 85 million property pages and generating over 350,000 enquiries for real estate developer and agent advertisers – every month.
Headquartered in Singapore, PropertyGuru was founded in 2006 by 2 entrepreneurs with a vision to simplify the property search process and help buyers, sellers and investors make better property decisions faster. Taking advantage of Asia's growing affluence, property demand and online explosion, it received its first VC investment funding in 2008 and most recently secured approximately $60m investment in 2012 from Deutsche Telekom, South East Asia's largest digital investment to date. Since its launch, PropertyGuru has reported rapid growth and most recently announced a record 96% increase in revenue, 60% increase in internet users and 50% increase in paying agent advertisers to 24,000 – in 2012.
The award winning company focuses heavily on innovation. Over the last 18 months, the Company has developed and launched 13 mobile applications in 4 countries and 3 languages which have received over half a million downloads – almost 50 per cent of its users in Singapore now originate from a mobile device. PropertyGuru was also the first to integrate website with social media, first to launch Singapore's only dedicated property newspaper with over 100,000 copies circulated island-wide every month and developing a property events platform with approximately 30 shows held annually across 4 countries addressing 30,000 potential property buyers on the ground.
PropertyGuru has won multiple awards:
-OPP Awards For Excellence 2012 (Gold) "Best Innovation"
-OPP Awards For Excellence 2012 (Silver) "Best Media"
-OPP Awards For Excellence 2012 (Bronze) "Best Online Service"
-OPP Awards For Excellence 2011 (Gold) "Best Media Brand"
-OPP Awards For Excellence 2011 (Silver) "Best Online Service"
-Singapore IT Federation (SITF) Merit Award for "Mobile Application" 2011
-Red Herring Top 100 Asia Award 2011
-Hitwise "No.1 Website in the Property Industry" award 2011
-Marketing Magazine Digital Media of the Year 2011, Singapore Property Category
-South East Asian SME Tiger Awards 2011 Gold Award – Online Business
Singapore IT Federation (SITF) award for "Best E-Enterprise Company 2010"
-Marketing Magazine's "Top Digital Media of the Year 2010" Award
-Singapore Venture Capital & Private Equity Association (SVCA) award for "Best Performing VC Backed Company 2010"
-CNBC World's "Best Property Portal Award 2009" Award
-Google Zeitgeist Singapore 9th Fastest Rising Search Term 2009 Award
BIOGRAPHIES:
Steve Melhuish, Co-Founder and Group Chief Executive Officer
Steve is an award-winning entrepreneur. For the last two decades, Steve built profitable companies throughout Asia and Europe and in 2006 along with his co-founder Jani Rautiainen, founded PropertyGuru Group.
Under the auspices of this newly established holding group, PropertyGuru.com.sg was started with the aim of providing a one-stop online shop for the listing and sale of residential properties to individual and institutional home buyers and investors respectively.
Prior to Steve's current role, he held executive positions in various venture capital firms including Skype, AOL, Virgin Media, Vodafone, Extreme Media, iPass and Ariadne Capital. In all, Steve's expertise in leading global teams resulted in a US$500 million turnover for a business unit for Cable & Wireless. In 2007, Steve was awarded the Spirit of Enterprise Award, in recognition of his contributions to entrepreneurship in Singapore.
Steve is a non-executive director for two other firms, an angel investor and member of the Business Angels Network South East Asia.
Louis-Bernard Carcouet, Product Manager, Mobile, PropertyGuru
Louis' passion for technology and mobile innovation led him to do a Master's degree in Management at Paris Dauphine University and work for Vivendi Mobile Entertainment in Paris for four years. In 2011, Louis joined PropertyGuru in his current position and took a newly set-up fledgling division to create new and exciting products for PropertyGuru in Singapore and the region. Within a year, Louis and his mobile technology team rolled out one mobile app in Singapore to 13 apps in four countries on three mobile platforms totaling more than 615,000 downloads and 20 million page views each month.