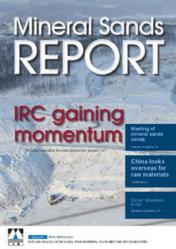 MSR contains the latest industry news, pricing analysis for TiO2 pigment, feedstock and zircon
(PRWEB) March 27, 2013
TZ Minerals International(TZMI) is pleased to announce the release the March edition of Mineral Sands Report (MSR) for 2013. Published monthly, MSR covers all aspects of the titanium minerals, TiO2 pigment and zircon industries and provides up to date news, analysis, pricing and data.
This month, there is a feature on IRC Limited's Kuranakh ilmenite mine in Far Eastern Russia. The feature details the operations, some of the challenges in mining in such a cold environment as well as plans for the future.
Industry Insight in March is a wrap up of the Australian Journal of Mining mineral sands conference, featuring our TZMI senior consultant Zayn Marlowe who spoke to delegates about supply and demand dynamics for the titanium dioxide and zircon value chains.
The Quarterly update on zircon shows a decline in trade in the final quarter of 2012 as well as outlining price fluctuations during the quarter.
Plus MSR contains the latest industry news, pricing analysis for TiO2 pigment, feedstock and zircon as well as industry news from China and trade statistics.
MSR is the only comprehensive global review supplied to the industry on a regular basis. If you would like more information about how to order TZMI's Mineral Sands Report please visit http://www.tzmi.com