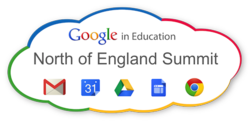 Network with forward thinking educators in your area
UK - (PRWEB UK) 27 March 2013
London: Google Apps for Education provides the tools students want, bringing students, teachers and teams together to work better through collaboration. The Google Apps for Education North of England Summit takes place in the North Halifax Grammar School on Saturday April 27th and Sunday April 28th 2013.
The 'Google Education North England Summit' is a high intensity two-day event that focuses on deploying, integrating and using Google Apps for Education to promote student learning and achievement in both K-12 and higher education. Events feature Google Certified Teachers and representatives from Google's Apps for Education team. The two-day summit of informative breakouts, cutting-edge demonstrations, and hands-on workshops will also include keynote presentations from Zoe Ross and Ken Shelton.
Why should I attend a Google in Education Summit?
1. Gain knowledge regarding Google Enterprise solutions
The North England Summit has seven focussed sessions (plus keynotes and other sessions) led by respected Google Education staff, Google Certified Teachers and Google Apps EDU Certified Trainers, targeted at specific levels: for beginners, intermediate and advanced users.
2. Network with forward thinking educators in your area
This is an often-overlooked aspect of summits however; these events are great for networking, from sharing best practices in an informal environment to making new contacts and learning about new career opportunities. Of course the fun aspect can't be overstated and this summit has networking events both before and during the summit in the evenings.
3. Try out Chromebooks
Summits have a 'Chromebook playground'; a dedicated classroom with experts on hand where you can drop in at any time during the summit to try out Google Chromebooks, including the management console.
4. Meet (and learn) from the real experts
Sessions are lead by Google staff, Google Certified Teachers, Google Apps EDU Certified trainers, Google Certified Deployment Specialists and other Google Apps experts. Attendees are given the opportunity to interact both in sessions and outside.
5. Use and learn about Android devices in education
A new addition to the North England Summit this year are hands on 'Android in Education' sessions, looking at how Android tablets can assist learning in K-12 and Higher Ed.
Who should attend?
Teachers and lecturers:
Sessions on topics such as Docs and Sites: from beginner sessions for teachers starting out with Google in the classroom, to sessions for educators getting to grips with Apps Script and custom development.
School administrators:
Summits have sessions on administering Google Apps across schools, colleges, universities or districts, covering the practical issues that management has to deal with on a day to day basis.
IT managers and IT staff:
With sessions on 'techy' topics such as 'planning a successful Google Apps roll out', 'using Apps script' and best practices for training and supporting users the summit attracts many IT professionals.
Institutions looking at moving to Google Apps
Many attendees come from schools and colleges who do not currently use Google Apps, and summits are a great way to evaluate Google tools in detail and discuss all the issues around implementation and use with actual users in institutions similar to yours.
Chloe Stubbins, Head of Change Management at AppsCare will be speaking at the event about how to successfully migrate your school/university to Google Apps. Join AppsCare, Gold Sponsor of the summit and Google Enterprise Premier Partner to understand how Google Apps is transforming schools and universities across the country.
Sign up for the reduced price of £150 (by selecting confirmed conference speaker ticket) and enter the code APPSCARE in the 'Discount Code' field at the bottom of the sign up form. For any enquiries, please contact vonay(at)appsevents(dot)com or call on +44 (0) 131 202 6003
AppsCare®, is a world leader in cloud services provisions, supporting over 2500 customers in 33 countries, including the British School of Kuwait, Wrekin College and Vale School. Their fortnightly newsletter provides latest industry news, tips and 'how to' features and useful information about Cloud computing, to subscribe to their mailing list click here.