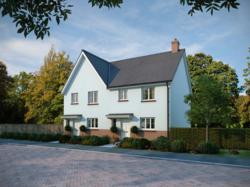 We are committed to helping people secure a home of their own who might not otherwise be able to afford a property at the full market value
Barnstaple, Devon (PRWEB UK) 26 March 2013
This is in addition to the news that the developer's range of six low cost apartments is released for sale at 70 per cent of their open market value at the development on the outskirts of Barnstaple.
Jane Pearce, Sales Manager at Devonshire Homes, explained: "We are committed to helping people secure a home of their own who might not otherwise be able to afford a property at the full market value."
Currently available through the FirstBuy scheme are the Webb properties which are available from £224,950. They feature three bedrooms; master with en-suite, a fitted kitchen, gas central heating and a garage. Two of the four Webbs have been released for sale.
Jane Pearce explained the two schemes: "Assistance from the FirstBuy scheme means qualifying buyers will receive an equity loan up to the value of 20 per cent of the purchase price (10% from Devonshire Homes and 10% from HCA), enabling them to find a smaller deposit of 4 per cent and a mortgage for the remaining 76 per cent.
"In comparison the low cost apartments are offered for sale to eligible purchasers at a discounted price of the full market value. This is not a shared ownership scheme and even though there is a discount on the sale price, the purchaser still owns 100 per cent of the property. When you want to sell the property, you must do so on the same terms, which means you must sell it with the same level of discount you received and to someone who meets the criteria for this scheme."
The 70% open market apartments feature two bedrooms, fitted kitchen, gas central heating and allocated parking. The discounted prices start at £98,500. Priority will be given to local first time buyers, restricted household income and key workers.
"We believe these options will provide eager home owners in North Devon the opportunity to finally secure a home of their dreams. I encourage potential buyers to view the showroom that is open daily from 10am to 4.30pm to appreciate the specification and build quality they can expect across the whole development," added Jane.
Interested parties can also contact Devonshire Homes' Rumsam Meadows sales office direct on 01271 322584 or visit http://www.devonshirehomes.co.uk.