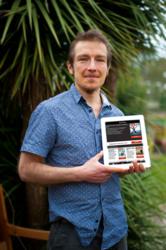 We hope that making the snappy, focused articles offered by Guru available via the app will make it even easier for people to access stimulating information about biomedical science and the issues it raises." - Ben Stewart, Grants Manager, Wellcome Trust
(PRWEB UK) 28 March 2013
The Guru app, funded by the world-renowned Wellcome Trust, will be launched today at 8pm GMT.
The app is one of only a few free-to-subscribe publications currently available in Apple's Newsstand and the Android Marketplace ('Google Play'). Offering a user-friendly reading experience, the new app is designed to bring science to 'Generation Y' through alternative, light-hearted content. Receiving plaudits for its cool, fresh approach, the app allows readers to download all ten back issues of Guru and subscribe to all future issues. It also lets them share content quickly and easily on the popular social networking sites Facebook and Twitter.
"Since launching Guru Magazine last year, we've wanted to develop an app as it's a great way to instantly engage with our readers," said Dr Stuart Farrimond, founder of Guru. "It will also help us achieve our aim of showing the wider public that you don't need a University education to get involved in science – while also helping to make scientific research openly available."
The prestigious global foundation, the Wellcome Trust (http://www.wellcome.ac.uk/), awarded the Guru team a grant of £12,000/$18,000 in August 2012 to recognise the contribution Guru Magazine has made in engaging the public with the science that matters to them, and to help make the app a reality.
"Spreading the delight of science is an important part of our charitable mission," said Ben Stewart, Grants Manager at Wellcome Trust. "We hope that making the snappy, focused articles offered by Guru available for free through the iPad, the iPhone and other tablets and smartphones will make it even easier for people to access stimulating information about biomedical science and the issues that it raises."
Guru is a free bi-monthly publication, fulfilling Dr Farrimond's vision of making science appeal to everyone. Alongside the new app, issues are available from the magazine's website (http://www.gurumagazine.org) where it can be downloaded in a wide variety of formats.