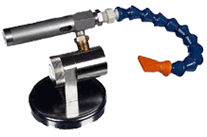 Toronto, Ontario (PRWEB) March 25, 2013
The Nex Flow™ Frigid-X™ Mini Spot Cooler is a packaged small capacity vortex tube. A vortex tube is a device that creates a stream of super cold air on one end and hot air at the other. The cold air is used for spot cooling applications.
The Nex Flow™ Frigid-X™ Mini Spot Cooler is preset for optimum cooling efficiency to produce optimum flow and temperature drop to about 20 degrees F ( -7 degrees C) depending on inlet compressed air temperature. The unit comes complete with a stand and single point hose kit so it can be mounted easily to any magnetic surface and the cold air directed to the exact point of use.
The Nex Flow™ Frigid-X™ Mini Spot Cooler is very effective in preventing melting, burning and breakage on high speed operations. Ideal for small drilling, slotting, routing and many other applications. Specific uses include small tool cooling, solder cooling, grinding of lenses, cooling blades, setting thermostats, small camera cooling, and needle cooling in heavy sewing operations.
The units are reliable with no moving parts, maintenance free, compact, lightweight, low cost, with no coolant, no spark or explosion hazard as no electricity. Used to Cool Electronic Components, Cool Heat Shrink Tubing, and many other applications.