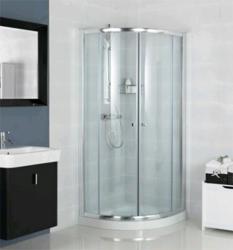 The Asturias shower enclosures range has been designed by Roman's team of in house designers. It has been created to offer truly affordable shower enclosures and bath screens which do not compromise on quality
Grimsby, N.E. Lincolnshire (PRWEB UK) 27 March 2013
Asturias Bathrooms, a UK store that is well-known for their selection of bathroom furniture, is now adding a new line of shower enclosures to their online shop. Designed with and created by UK based company Roman, the line will be released under Asturias Bathroom's own name and is the first 'in-house' brand for the store. Owned by a 32 year old company, Asturias Bathrooms is home to an extensive range of bathroom furniture and some of the brands in their shop include Carron Bathrooms, Bristan Showers, Smedbo Bathroom Accessories, Merlyn Shower Enclosures and now, Asturias Shower Enclosures.
The Asturias Shower Enclosures brand was created as part of a partnership with Roman, a prestigious company in their own right. With 26 years of experience in designing bathroom furniture and shower enclosures, Roman was viewed by Asturias Bathrooms as the best option for creating a UK based brand centred on quality and affordable products. After working extensively with the designers, Asturias Bathrooms states that they are pleased to announce a line of shower enclosures they are proud to call their own.
The partnership between Asturias Bathrooms and Roman has given birth to a range of designs including some of the most popular styles on the market today. Conceived and created exclusively for Asturias Bathrooms by Roman's in-house designers, the line will include all popular styles and sizes and will be manufactured in the UK, therefore supporting local economy. Shower enclosure models include quadrant enclosures, sliding door enclosures, bi-fold door enclosures, wet room panels, pivot door enclosures and corner entry closures. Each of these models is styled after luxury bathroom and shower enclosures and do include the full range of popular styles.
The shower enclosures are constructed of the highest quality materials, including glass. Each of the shower enclosures under Asturias Bathroom's name will feature a 10 year warranty and the Roman Ultra-Care Pre-Coated Glass Protection, meaning that the in-house brand from Asturias Bathrooms is just as (or more) protected as popular brands.
Roman states on their website that "The Asturias shower enclosures range has been designed by Roman's team of in house designers. It has been created to offer truly affordable shower enclosures and bath screens which do not compromise on quality" showing that they too are proud to be a part of Asturias Bathroom's new collection.
Buyers can look forward to purchasing the new collection of Asturias Shower Enclosures on the site to be delivered to homeowners in the UK. With quality UK construction the company is supporting local jobs and economic growth. Furthermore, with their full ten year warranty, glass protection, elegant designs, easy to install features and of course the quality materials used in construction, the new line of shower enclosures from Asturias Bathrooms is sure to be popular with consumers around Great Britain for as long as they are available.
About Asturias Bathrooms
Asturias Bathrooms was founded by a company with 32 years of experience with bathroom suites and design. The company specialises in bathroom furniture ranging from full suites to all of the accessories needed to install it. Their online shop delivers to the UK and their website can be a great source of inspiration for anyone planning or building their new bathroom.