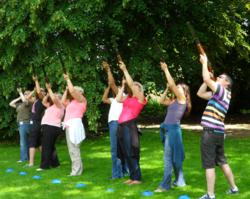 Team events that fail to "build" anything have usually violated several of the rules of teambuilding
(PRWEB UK) 26 March 2013
A major Toronto-based management consulting firm that has organised successful teambuilding events for a glittering list of clients has recently shared some of its wisdom on what ingredients of events should – and shouldn't – be included in 2013.
Executive Oasis International, which has a long list of blue chip clients, provides teambuilding sessions and retreats in 16 countries. But, like Full Circle Motivation, they're a good deal more than "fun in the sun" or corporate play-days. Their team events include striking simulations that adroitly tease out parallels between the dynamics of a client's team and the challenges of doing business in shaky economic times. Up to this point, Victor Tardieu of Full Circle Motivation is in full agreement.
EOI recommend an integral set of nine teambuilding tips: Team events that fail to "build" anything have usually violated several or most of them. They are, in order of priority:
1. Never confuse teambuilding with team entertainment or recreation
2. Always set realistic time windows (with sufficient wiggle room) to achieve objectives
3. Budget realistically
4. Plan the event well in advance – last-minute planning usually fails
5. Don't fix dates and venue until a teambuilding supplier has been selected
6. Make sure that team or activity supplier is fully informed about the team context of the upcoming event
7. Be clear about overall team objectives
8. Make sure that all team initiatives are spearheaded by senior management
9. Get your priorities right – a spectacular and expensive venue is nowhere near as important as a skilled and experienced facilitator.
On a more practical level Tardieu says: "the whole point about teambuilding is building. Our coal-face approach to this involves the following nine constituent parts of any programme:
1. Great events require outstanding planning and innovative communication
2. The experience begins with the first touch - the invitation – and continues right through the event and into the workplace. Inventive and effective pre-event communications and engagement is key and helps to increase buy-in
3. Ensure that delegates are involved in the development of the programme, this also increases buy-in
4. Every piece of information that touches a delegate should add to the experience. Full Circle's communication is delivered in a style that fits the theme running throughout the entire event.
5. Create a vision of the event: theme, colour palette, photo/images, type style, graphic elements etc., so that these elements can be leveraged across all communications
6. Delegates learn by imitation and repetition – every event must have both elements of learning built in.
7. Add techniques for cementing the correct habit back in the workplace because, when delegates understand what they are meant to be doing (and the context in which they are meant to be doing it) then you have a well-run ship and few misunderstandings.
8. Build an event registration site which allows each delegate to register their details for the programme and then to retrieve full information on the programme, such as: venue, agenda, workshops / activities, follow up distance learning quizzes and much more
9. Set up to measure ROI – this cannot be done in retrospect
Professional consultancies such as Full Circle Motivation, with ample experience in organising and facilitating teambuilding events can ensure that all nine points are incorporated.