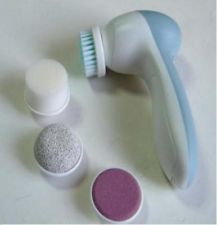 Spiritual health is also a key component for beauty and anti-aging.
Salisbury, NC (PRWEB) March 26, 2013
Renu Derma is excited to announce the addition of a 4 in 1 electric exfoliating brush to the natural anti-aging skin care line. Cosmetologists and dermatologists agree that regular exfoliation is an important step to prevent aging and maintain skin's healthy and youthful appearance. If skin care products are applied to the impenetrable debris of dead skin cells, the price or quality of the products don't truly make a difference. They can't penetrate the layer of dead skin so the customer will see little or no results in her skin.
The 4 in 1 exfoliating brush is a great addition to Renu Derma`s best-selling 3 in 1 rejuvenating mask which serves as a microdermabrasion facial. When the two are used in combination, skin rejuvenation results are immediate and visible. Renu Derma client Laurie Basinger Shuping comments, "The mask is fantastic. I used it Thursday night and my daughter commented on Friday how young my skin looked."
Renu Derma's skin care consultants noticed a number of customers with adult acne.
While this issue can be directly connected with hormonal imbalance, it also can be aggravated by increased oil production and clogged pores. With regular weekly use, the 3 in 1 mask and the 4 in 1 exfoliating brush fight clogged pores, remove blackheads, normalize oil levels and reduce enlarged pores.
"Anti-aging is a complex process," confides Renu Derma Founder Maia Smith. "It is very important to address any hormonal imbalance issues that may contribute to your overall health as well as for skin that looks and feels younger. Spiritual health is also a key component for beauty and anti-aging."
As a leading Beauty and Image Expert, Smith is deeply involved in educating and inspiring women to make healthy life choices. She shared "How Hormonal Imbalance Can Harm You" on her popular blog and Renu Derma Natural Cosmetics organized and sponsored a seminar regarding this same issue hosting Dr. Christopher Nagy's presentation on the importance of balanced hormones.
As part of Renu Derma's mission to educate, inspire and help women beyond topical skin care, another seminar is planned for April 22 when Maia Smith and Dr. Terry Cassell will help attendees understand how to achieve a balanced and successful life.To find transcripts from seminar visit company's blog page.
Renu Derma Natural Cosmetics provides organic, anti-aging products for people who desire natural, effective skincare. Maia Smith, Founder and CEO, is a leading Image and Beauty Expert who has appeared in women's magazines and newsletters. She has over twenty thousand page views and database of four thousand loyal members.
Contact Maia
info (at) renuderma (dot) com
Tel: (866) 964 3932
Address: 103 S. Main St. Salisbury, NC 28144