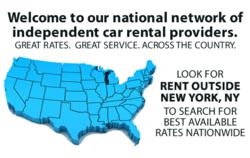 Belonging to the Car Rental Express network of rental agencies will enable us to expand our reach and better serve our customers
New York, New York (PRWEB) March 25, 2013
Action Car Rental rolled out a new online car rental reservation system today, becoming one of the first independent agencies in the city to join the Car Rental Express network of preferred rental partners. The new Cross Agency Traffic rental system is designed to assist Car Rental Express member agencies with their customer service offerings and fleet management requirements.
"Belonging to the Car Rental Express network of rental agencies will enable us to expand our reach and better serve our customers," explained Harry Hollander, President of Action Car Rental. "With the new system improvements we can communication with agencies across the country, ensuring that our customers are taken care of regardless of their location."
Thanks to the new software, Action Car Rental will now be able to

rent a vehicle outside their immediate geographic area,
enable customers to search for rates and vehicles anywhere in the country,
guarantee only the highest quality of rental thanks to Car Rental Express's preferred rental partners, and
maintain quick and easy internal reservation management and billing.
"What this software is doing is enabling us to build a national network of reliable, affordable independent car rental partners," says Hollander. "Over time, our network of independent agencies will be on par with other franchise systems and major brand networks."
Action will be rolling out further updates to their rental system later this summer as additional improvements are made to the Car Rental Express software. In the meantime, customers are encouraged to visit Action's website and browse their new and improve fleet of 2013 rental vehicles.
"We're really looking forward to seeing how this new tool enables us to improve our rental offerings at Action, and we couldn't be happier with the services Car Rental Express has continued to provide us with."
About Car Rental Express
CarRentalExpress.com (CRX) provides thousands of impartial consumer based Renter Rated reviews, including comments, for more than 200 car rental agencies. Real people who have completed rentals using the CRX system are responsible for all of the submitted reviews and comments. CRX also helps find some of the cheapest car rentals in North America, lower than major brands.
About Action Car Rental
ActionCarRental.com Action Car Rental is New York City's leading independent car rental agency. With six locations in New York City and New Jersey, Action Car Rental provides business and leisure travelers with a wide variety of rental vehicles, including luxury cars and hourly rentals.